Letter -1
Re. A Note of Warning for Misdemeanor with the Students

Dear David Vapor,
This letter has been written to you with reference to the complaint which was filed against you on 23rd January 20XX. The complaint says that your behavior with the students is very complex and rough. Your communication has been recorded as very unprofessional and inappropriate for a class ambiance. The class students claim that your code of conduct is unfair to them because they complained to the administration about your excessive absenteeism and unprofessional way of teaching which can be labeled as ineffective teaching.
Dear Vapor, if a student(s) complains about something which is rightfully genuine then behaving in a different way to the student(s) who complained is very immature and unprofessional. You should be mature and professional enough to take the criticism and bring positive change responding to that criticism. You are advised to take the note as a warning which will be followed by disciplinary actions that can be amply grave in their nature.
For more, you can contact the administration via email at [email] or dial +[X]. You can meet me in person to discuss if you need to talk. Thank you.
Regards
David Vapor
The Coordinator
ID Square, G-9 Sector 5, California, USA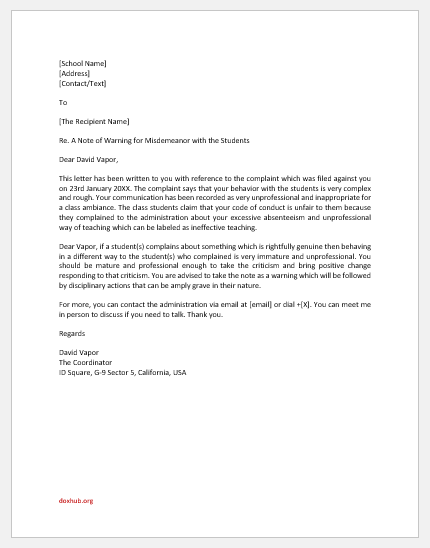 Letter -2
Re. Warning Letter for poor Code of Conduct with the Students
Dear Markel,
It has been noticed that your code of conduct does not meet the standard requirements with the students. Your misdemeanor has been notified and reported to the administration three times in the last week which means the genuineness. Parents of a few students have also visited the school in this regard. Too many complaints against the demeanor of our teaching staff are very embarrassing for us and need immediate accuracy in the code of conduct. You have been given all the facilities you require, considering that you have been given the last chance to mend your conduct.
You are suggested to meet Mr. Rolando from the Science Block who is Head of Students Affair in the school. He will discuss with you the matter and guide you through it. You are advised to consider this letter as a warning note.
You can contact the coordinator at +[X] or the Directorate of Staff and Area (DSA) at +[X]. Thank you.
Regards
Regale Stephen Lockhart
The Assistant Coordinator
Simon Dura Academic Center of Excellence (SDACE)
Campus-W/4, T-Square, Third Avenue, Edward Road, California, USA.