NEW YEAR RESOLUTIONS
Almost everyone in the world makes some resolutions at the start of the New Year in excitement. Most of them give up after six months and there are very few people who stick themselves to the resolution. The checklist allows you to remember your to-do the task of the year.
You can divide your various aspects of life while designing the checklist. Many of the checklists are unsuccessful because the people do not write the specific sentences in the list. Writing the specific words in the checklist keep you motivated.
Try to keep your goals simple. Do not write such goals which are not possible to achieve. Try to know your limitations and then design your goals. Give your goals enough time and then prepare a checklist. Create your action plans. You should mention in the checklist what you are going to do in order to achieve your goals. Again, write only those actions which you can easily perform.
When you have successfully achieved a goal, then visualize your life after achieving that goal and have a look at your efforts what you have put in, to achieve them. The checklist should contain all those points which a person may require meeting his goals. It should be motivational and it should be prepared with proper insight. You can also get the templates from the internet. These readymade templates are very easy to use. You can also customize the template according to your needs.
PREVIEW & DETAILS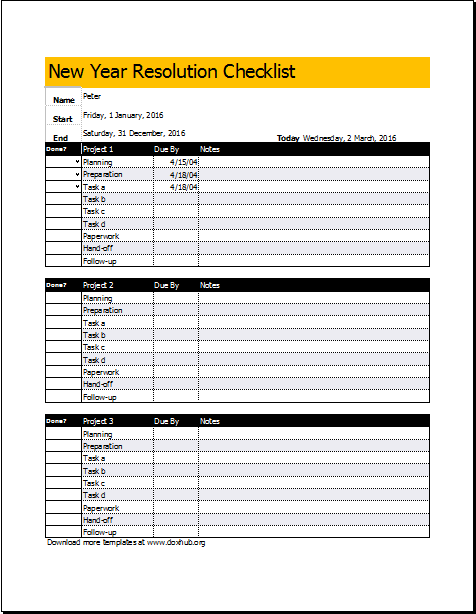 NEW YEAR RESOLUTION CHECKLIST TEMPLATE
File Size: 119 KB mobile [Android+iOS] & iPad
Download Excel (.xls) 2007 & 2007+
File Size: 21 KB
Download OpenOffice Calc (.ods)