CHURCH PROGRAMS & READY MADE FORMATS
The church program templates are the services that are used in any church. These templates are the organized services and keep the parishioners, visitors and the members of the program informed that whatever it is held that is scheduled in a particular and proper way. The church program template services can be customized for your any church program. The template gives us the glance of upcoming services or events. These kinds of templates are easy to use and are customizable.
Schedule template is one and only place where you can find the productive templates for all of your necessities of the church. This church program template contains Sanctioned and Baptism invitations, ready-to-wear templates for Church Brochures. It also contains Church newsletters, and church camp leaflets, church holiday announcements. Moreover, it also includes bulletin covers, traditional calendars, and so on.
There few steps to customize the front cover of your church program template and if you do so then your template will look gorgeous. These steps are given as under; first is to add a suitable scripture along with referencing poetry. Secondly, you need to add the church name and address. And at third, you also need to mention the date as well. And lastly, you should not forget to mention presiding priest's name.
Then you need to beautify your inside cover of the church program template. So how can you do that by following few steps again, such as; mentioning of church name, mentioning of date, and time of service and the presiding cleric or the guest minister's name.
The final stage of the template is called as body and it includes; devotion, prayer, scripture, selection, contribution, and offering, welcoming of the visitors and the announcements. Furthermore, it also includes selection and the introduction of the speaker and altar call and remarks and finally the benediction.
So, this is all for church program templates and if you follow this pattern then it would look beautiful and wonderful.
PREVIEW & DETAILS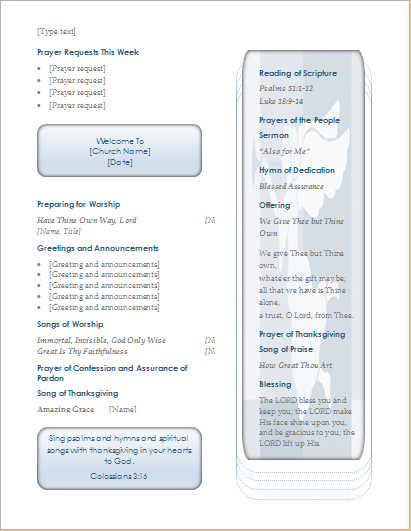 CHURCH PROGRAM TEMPLATE
File Size: 192 KB mobile [Android+iOS] & iPad
Download Word (.doc) 2007 & 2007+
File Size: 108 KB
Download OpenOffice Writer (.odt)