1:
I would like to request you to accept this letter as an excuse regarding my leaving class on 12-09-20XX. I went to inform you in your office, but you had left early for home that day. I had to go urgently and for this purpose, I missed the class. I had to attend a very important meeting with my manager where I work in the second shift. I got an urgent call from my manager that today is their meeting with XYZ Company so in a hurry I left for the meeting.
I have been working in your institution for many years and I remember that hardly I had taken any uninformed leave and have left for home early. I had covered almost all syllabus with my students and their concepts are clear. Attending this meeting was very important for me as every bit of the project had to be discussed in it and it was very important for my career. I assure you this thing that in future nothing of this kind will happen and I will inform you well before time but for this time I am sorry.
I will compensate for the loss of missing the class and will arrange an extra class for students so they may not lack behind. Working under your kind supervision has always increased my morale and I have learned a lot of things from you. I was informed by the administrative department that I cannot take classes until I give a thorough explanation of my leaving the class.
I hope that keeping in view the situation that has been mentioned above you will understand my situation well. I guarantee you this thing that nothing of this kind will happen next time and for this time I am sorry. Waiting for a positive response from you!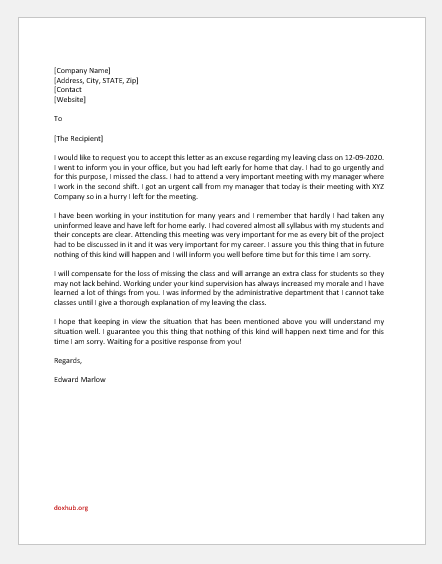 2-
Dear Mr. Jacob,
I am Edward Johnson, who has been working on the post of lecturer in Information Technology in Lenson Joseph School for the last five years. During my time here in your school, I tried to remain punctual and efficient and did not take any unauthorized leave. I was informed yesterday by the head of the department that you are expelling me for seven days from the school for missing the class on 12-09-20XX. I am writing this letter to seek an excuse from you regarding my behavior. The reason for all this was that I had a meeting at my son's school, and I had to attend it.
I was not intended to miss the class, but I got an emergency call from my son's school that he is involved in some bad activities and the school's principal called me to be there in school in an hour. I went to inform you, but you were busy meeting with Mr. Joseph, so I left school without informing you. I know that this behavior of mine was immature and I had to leave a text message but in hurry, I forgot. If I did not attend the meeting that day, then the principal could expel my son from school so I must have to go there. I assure you that next nothing of the same kind will happen and I will inform you on time if such an emergency occurs. I will compensate for the workload by arranging an extra class within two days.
I request you to accept this excuse letter and keeping in view aforesaid situation I am hopeful that you will apologize to me. I had spent a really good time at your school and have learned a lot of new things. I hope that you will give thorough consideration to this request.
Regards,
Katherine Betsey