Letter -1
The company truly admires the efforts you put in developing marketing department to the place it is on today. Our organization wouldn't have prospered to this level without your highly professional and technical plans. And to honor your talent we have promoted you to the role of the manager in such a limited time.
However, in just two months of this promotion, your attitude has been noticeably changed. While some changes are good and healthy for the environment, your behavior, however, has a negative impact on your respective department. Many employees have registered a complaint against your rude behavior. According to them you don't supervise and guide the tasks properly to them. You aren't really concerned with what is going on under your nose.
You must accept the fact that this is the outcome of your negligence and poor performance. Therefore, kindly be mindful of the fact that with great success comes great responsibility as well. We are giving you one month to bring the things back to normal and report your performance on June 1st. Otherwise, the company will sort this issue in its own way. Download
---
Letter -2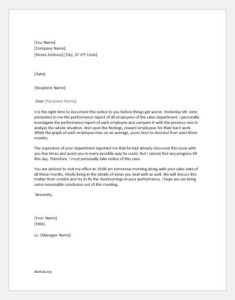 It is the right time to document this notice to you before things get worse. Yesterday Mr. John presented to me the performance report of all employees of the sales department. I personally investigate the performance report of each employee and compare it with the previous one to analyze the whole situation. And upon the findings, reward employees for their hard work. While the graph of each employee rises on an average, yours tend to descend from past three months.
The supervisor of your department reported me that he had already discussed this issue with you few times and assist you in every possible way he could. But I cannot find any progress till this day. Therefore, I must personally take notice of this case.
You are advised to visit my office at 10:00 am tomorrow morning along with your sales data of all these months. Kindly bring in the details of areas you deal with as well. We will discuss this matter from scratch and try to fix the shortcomings in your performance. I hope we can bring some reasonable conclusion out of this meeting. Download
---
Letter -3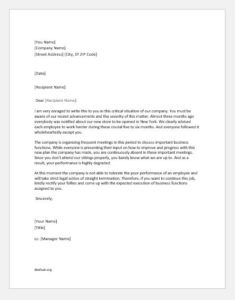 I am very enraged to write this to you in this critical situation of our company. You must be aware of our recent advancements and the severity of this matter. Almost three months ago everybody was notified about our new store to be opened in New York. We clearly advised each employee to work harder during these crucial five to six months. And everyone followed it wholeheartedly except you.
The company is organizing frequent meetings in this period to discuss important business functions. While everyone is presenting their input on how to improve and progress with this new plan the company has made, you are continuously absent in these important meetings. Since you don't attend our sittings properly, you barely know what we are up to. And as a result, your performance is highly degraded.
At this moment the company is not able to tolerate the poor performance of an employee and will take strict legal action of straight termination. Therefore, if you want to continue this job, kindly rectify your follies and come up with the expected execution of business functions assigned to you. Download