Sample 1
This is to inform you of my resignation from the post of accounts manager effective from a months' time from now.
The years I had served at the company have been undoubtedly the best but perhaps everything started must end someday. I believe that my struggle all these years have been sufficient for my family. Now that I have grown old, my sons have become capable enough of handling the household chores. I had presented you my resignation far before time.
The environment at the company has always encouraged productivity accompanied with encouragement if needed. I am proud that I have been part of such a wonderful group. Prior to the issuance of my retirement letter, I had duly completed all my tasks and I feel that you will not face any difficulty. Still, if you come across any, please contact me on my number.
Sample 2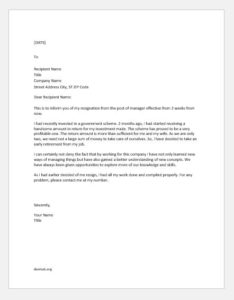 This is to inform you of my resignation from the post of manager effective from 2 weeks from now.
I had recently invested in a government scheme. 2 months ago, I had started receiving a handsome amount in return for my investment made. The scheme has proved to be a very profitable one. The return amount is more than sufficient for me and my wife. As we are only two, we need not a large sum of money to take care of ourselves. So, I have decided to take an early retirement from my job.
I can certainly not deny the fact that by working for this company I have not only learned new ways of managing things but have also gained a better understanding of new concepts. We have always been given opportunities to explore more of our knowledge and skills.
As I had earlier decided of me resign, I had all my work done and compiled properly. For any problem, please contact me at my number.
Sample 3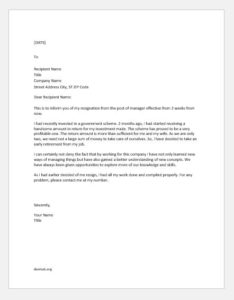 I am writing this letter to inform you of my resignation from the post of sales manager with effect from 2 weeks from now.
After working for a much longer period, I now intend to take some rest. I and my wife has decided to move back to our hometown. As we are growing old, we feel the need to spend more time with our loved ones. I have a family business there which I intend to look after so that I may be able to manage my household chores well as before.
It was very hard for me to take the decision of resigning from the company where my efforts have always been recognized and where I have earned more respect with the passage of time. But now I believe that it's time for me that I leave with good memories.
I had chosen this time frame for resigning as all our important projects have been completed and there is nothing else left behind to be completed. My workings are with my supervisor, all up to date. Please feel free to contact me for any queries.