Sample 1
Due to low income
This letter is to inform you of my resignation from the post of manager sales effective from 2 weeks from now.
I had earlier requested for a salary increase as my current salary does not match up with my financial expenses. I also received a confirmation in this respect by my supervisor stating that soon my salary will be increased. But his words did not go well with the real situation. I had, therefore, opted for another job to fulfill my financial requirements.
The company has always had the comfortable environment in which anyone would love to work. I had managed to acquire new job tasks and skills needed by working here.
The current situation demands that I leave my position for a better future. Prior to my resignation, I have duly submitted my project workings to my department head.
Sample 2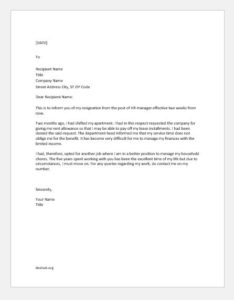 This is to inform you of my resignation from the post of HR manager effective two weeks from now.
Two months ago, I had shifted my apartment. I had in this respect requested the company for giving me rent allowance so that I may be able to pay off my lease installments. I had been denied the said request. The department head informed me that my service time does not oblige me for the benefit. It has become very difficult for me to manage my finances with the limited income.
I had, therefore, opted for another job where I am in a better position to manage my household chores. The five years spent working with you has been the excellent time of my life but due to circumstances, I must move on. For any queries regarding my work, do contact me on my number.
Sample 3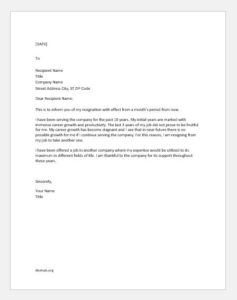 This is to inform you of my resignation with effect from a month's period from now.
I have been serving the company for the past 10 years. My initial years are marked with immense career growth and productivity. The last 3 years of my job did not prove to be fruitful for me. My career growth has become stagnant and I see that in near future there is no possible growth for me if I continue serving the company. For this reason, I am resigning from my job to take another one.
I have been offered a job in another company where my expertise would be utilized to its maximum in different fields of life. I am thankful to the company for its support throughout these years.