During Maternity Leave
I am writing this letter to inform you about my decision of not continuing the job. This letter should be considered as a formal resignation from the job.
The reason for taking the decision is I want to give much time to my family & house. Since you know that I was on maternity leave for past two months, I have decided to make it a permanent one. I do not intend to return to work as I want to enjoy the new phase of my life as a mother.
I am sure that you will understand the situation that I am no more willing to do an outdoor job where I must leave my newborn with the maids. I want to live every moment of his childhood myself. I wish you to find a good replacement as soon as possible.
If you or the replacement need any kind of information regarding my work, please do not hesitate to contact on the given number.
During Training Period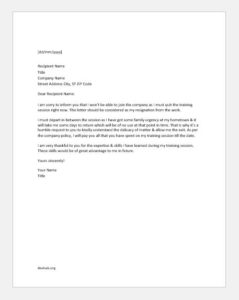 I am sorry to inform you that I won't be able to join the company as I must quit the training session right now. This letter should be considered as my resignation from the work.
I must depart in between the session as I have got some family urgency at my hometown & it will take me some days to return which will be of no use at that point in time. That is why it's a humble request to you to kindly understand the delicacy of matter & allow me the exit. As per the company policy, I will pay you all that you have spent on my training session till the date.
I am very thankful to you for the expertise & skills I have learned during my training session. These skills would be of great advantage to me in future.
Yours sincerely!
During Orientation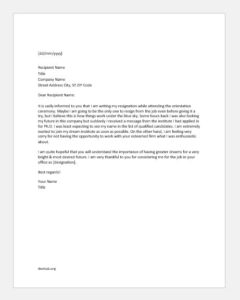 It is sadly informed to you that I am writing my resignation while attending the orientation ceremony. Maybe I am going to be the only one to resign from the job even before giving it a try, but I believe this is how things work under the blue sky. Some hours back I was also looking my future in this company but suddenly I received a message from the institute I had applied in for Ph.D. I was least expecting to see my name in the list of qualified candidates. I am extremely excited to join my dream institute as soon as possible. On the other hand, I am feeling very sorry for not having the opportunity to work with your esteemed firm what I was enthusiastic about.
I am quite hopeful that you will understand the importance of having greater dreams for a very bright & most desired future. I am very thankful to you for considering me for the job in your office as [designation].
Best regards!