Due to Marriage
It is to inform you that I am leaving this job within a span of two months as I am getting married. Working with you was the best professional experience of my life I must admit. My talent & capabilities flourished since you gave me the best platform for that.
Although I am excited that I am entering a new phase of my life but on the same hand I am feeling nostalgic as well for leaving the best people & memories behind. I am leaving the job because I will have to relocate after getting married. I am hopeful that you understand my situation & the literal reason for waving the company goodbye.
Thank you once again for providing me the chance to work under your benign supremacy.
---
Due to Personal Issues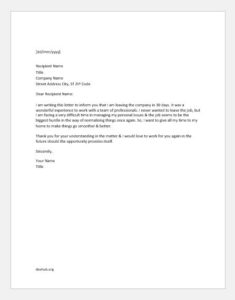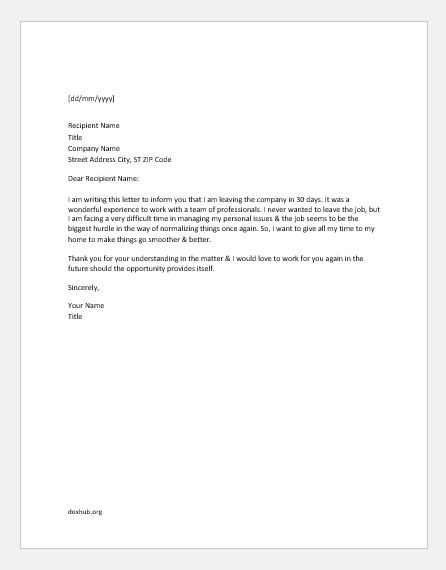 I am writing this letter to inform you that I am leaving the company in 30 days. It was a wonderful experience to work with a team of professionals. I never wanted to leave the job, but I am facing a very difficult time in managing my personal issues & the job seems to be the biggest hurdle in the way of normalizing things once again. So, I want to give all my time to my home to make things go smoother & better.
Thank you for your understanding in the matter & I would love to work for you again in the future should the opportunity provides itself.
---
Due to Illness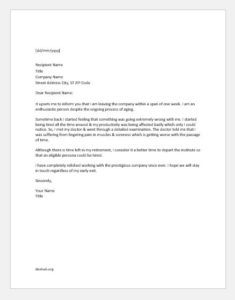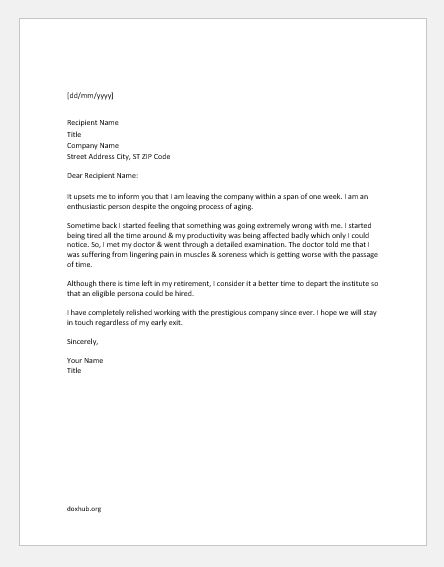 It upsets me to inform you that I am leaving the company within a span of one week. I am an enthusiastic person despite the ongoing process of aging.
Sometime back I started feeling that something was going extremely wrong with me. I started being tired all the time around & my productivity was being affected badly which only I could notice. So, I met my doctor & went through a detailed examination. The doctor told me that I was suffering from lingering pain in muscles & soreness which is getting worse with the passage of time.
Although there is time left in my retirement, I consider it a better time to depart the institute so that an eligible persona could be hired.
I have completely relished working with the prestigious company since ever. I hope we will stay in touch regardless of my early exit.
Best regards!
---
Due to Study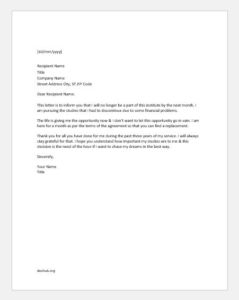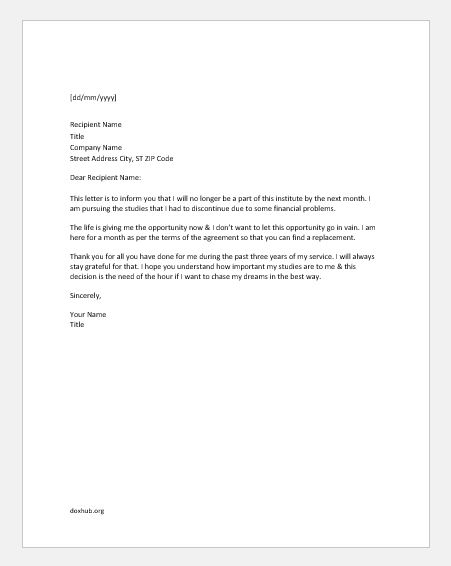 This letter is to inform you that I will no longer be a part of this institute by the next month. I am pursuing the studies that I had to discontinue due to some financial problems.
The life is giving me the opportunity now & I don't want to let this opportunity go in vain. I am here for a month as per the terms of the agreement so that you can find a replacement.
Thank you for all you have done for me during the past three years of my service. I will always stay grateful for that. I hope you understand how important my studies are to me & this decision is the need of the hour if I want to chase my dreams in the best way.