1-
Re. Salary Delay due to COVID-19

Dear James,
I am writing this email to seek a speedy release of your salaries as soon as possible. I aim to write to notify you about the salary delay which was happened due to Covid-19. As you all must have the idea that the Pandemic (COVID-19) has not only destabilized the country but the entire world. Every field of the profession has been impacted fervently; let it be education, politics, or business. The economy is hit hard by the pandemic and every business; small or big, has been affected by the pandemic.
Where people have confronted temporary or permanent layoffs and employers have to completely shut down their businesses; we are also facing a few difficulties due to this pandemic. This pandemic impelled the government of the state to inflict a strict lockdown all over the USA which demanded us to leave the work aside and give more attention to the health of our employees and their families. It led us to choose to implicate online working i.e. work from home so that we all can work safely circumventing the contaminating decease.
I am happy all remained safe during this tough time, but we are facing some financial setback which has affected the whole budget and funding. Therefore, there is a small delay in your salaries.
We are seeking the speedy release of the salaries as we understand the financial burden you might facing due to this delay. I assure you of complete cooperation from our side and will coordinate with you in all ways. Your salary will be deposited as soon as possible and not later than 10th November 20XX. I hope you understand and will bear with us.
I deeply appreciate your patience and promise a brisk deposit of salaries. Thank you.
Regards
J. Long Kelly
Romanian Decks Group of Companies
24342-New Street James Road, California, USA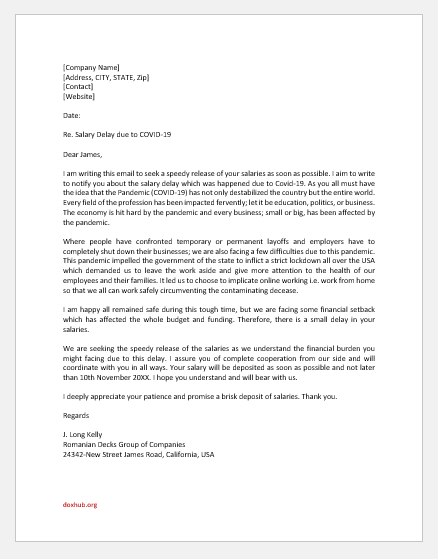 2-
Re. Salary Delay Due to Covid-19
Dear Wilson,
I am Deck Forty from Window Dairy Foods Company. I am writing to inform you about the slight delay in the payment of the salaries this month. This month was a month of financial trouble for the company which was backed up by the ten months' lockdown which was inflicted in the state on 15th March 20XX. For ten months, we are facing troubles with destabilized economic wheeling of the company due to COVID-19. Covid-19 caused the government to implicate a strict lockdown all over the city which was a good decision in its own viewing public health safety. Health should be a top priority whereas things related to the business are not less important.
Covid-19 impacted the economy of our company and led our budget to go very low. We fell short of creditors and debtors and the market value goes zero. Potential negative profits were also faced in subsequent months but now the circumstances are under control.
We understand the financial trouble you might facing right now due to an unexpected salary delay. This happened due to low customer sales and low market value. We are trying hard to come out of this fiscal and deposit your salaries at our earliest. As an immediate remedy, we have decided to give a welfare package to all of you which will support you enough to wait for the salaries.
We owe your contribution in making this company one of the top Dairy Companies and your impassionate assistance in striving for the best. I am hopeful that the issue of salary delay will be settled soon before 20th November 2020.
Thank you
Regards
Deck Forty
General Manager
Window Dairy Foods
293-Lockhart Heights, California, USA