Letter -1
Re. Requesting a Salary Increment on the Grounds of Expertise and Completion of Five Years of Promise and Positive Contribution

Dear Sir,
I am drafting this letter to plead my request to you to increase my salary by 15% according to the High School Hegel State Policy 20XX. According to the High School Hegel State Policy of 20XX, it is evident to increase the salary of your employees who have completed a five years' career in your institution. I also have completed expertise totally as of 12 years of working as an assistant professor. Therefore, it is brought into your consideration to investigate this for a salary increment.
I joined the institution on 18-02-20XX as an assistant professor. According to the set policy of the school, I was told that to get a salary increment of 15% I will need to complete my five years working as an assistant professor in the college while completing a career of 12 years in total as an assistant professor. Although, this looks like a complex and difficult criterion, however, I have achieved this and thus deserve a salary increment entirely on legal and official grounds. 
My contribution to the institution has been very positive and promising. I have supervised several students in the field of language and literature and helped students in conducting thorough and constructive research. I have attached all the copies of the required documents with this letter. For more, please contact me via email at [email] or call at +[X].
Regards
Derrick Hanson
Assistant Professor
Hegel School of Literature and Languages
I-Excel Public University, Boston
CA, USA.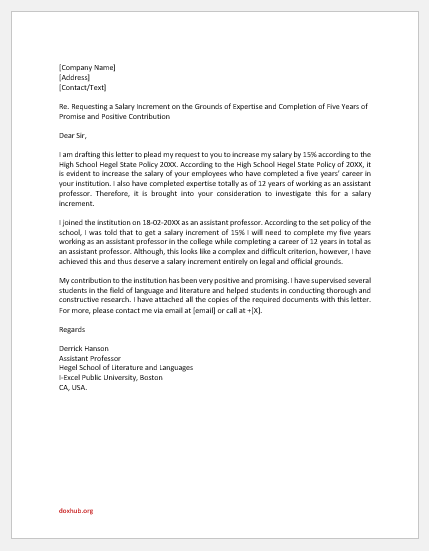 Letter -2
Re. Request for Increment in Salary based on New Policies of EDRS and Completion of Three Years
Dear Sir,
My writing intends to request an increment in salary as cited above in the subject. With reference to the Employees Development and Review Scheme (EDRS) Clause V (IV), I plead to request for salary increment. Along with this, my request takes its reason from the completion of three years in this institution also. My aim to write is to justify an increment in my salary so that it can be convenient for you to review and consider my request.
I joined this institution on 17-01-20XX as an assistant professor in the Department of Business and Finance Management (Management Sciences Group) through Federal and State Recruitments of 2018. According to the Federal Law of Employees Protection and Rights, it is evident that an employee deserves an increment of 10% after completing three years in service (if recruited through FSR-CE). As my recruitment was through the said criteria, I believe that I am eligible for a salary increment through a systematic appraisal.
Moreover, the amendment in the Employees Development and Review Scheme (EDRS) has also amended its clause by replacing the amount of increment (2% to 4%) from the law passed out because of John vs. State case no. 3-5421.
In the wake of all this, I understand that I deserve a salary increment of 14% as all the above-given statements supplicate increment in my salary.
Please find all the required documents enclosed as scanned copies with this letter. I have also enclosed the approval letter from my Head of the Department to proceed with the increment. Please write to me for any further at [email]. I thank you in anticipation for considering my application letter. I hope I will meet the criteria in your consideration also and bear an increment in salary. Thank you.
Regards
Tom Crail
The Assistant Professor
Department of Business and Finance Management
Derrick Hillington University, CA, USA.