1-
Re. Complaining about the Wrong Sent Checkbook along with Wrong Credit/Debit Card Twice Dated 23-02-2021 and 19-03-2021.
I am writing this letter to complain about a much serious matter of discrepancy at your end. I am Luc Hallway from Chow Lac Street, San Diego. I visited your bank on 10th February 20XX to open a savings account in your bank. I had had good reviews about your bank services and the policies it provides. I hold an account in your bank with the title Luc Hallway s/o Noah Shovel and account number [X].
The issue I have been confronted with is precisely the reception of the wrong checkbook and credit/debit card. I complained about the loss of my checkbook and my ATM card. The bank called me to validate the problem and called me to meet the manager for more corroboration. I was told that I would receive my new checkbook and ATM card at the given address within 4-5 working days but I did not receive any of them for ten days. After complaining again, I received the checkbook and ATM card but that was someone else's coming to the wrong address erroneously.
However, I called the relevant branch and informed them about this. They apologized and got the wrongly sent stuff as mentioned back. Later, I came to know that my checkbook and ATM card were sent to the wrong address. When I called again to the branch, I was treated badly as the person on call was very rude and uncommunicative.
This discrepancy at your end is quite unprofessional and unacceptable. Therefore, I realize I should take this to the head office of the bank. I request you to investigate this matter and let me know if I need to close my account or check for head office.
You can contact me via email at [email] or call at +1[X] from 9 AM to 8 PM. Thank you.
Regards
Luc Hallway
Nectar High Street Eleventh Avenue
San Diego, CA, USA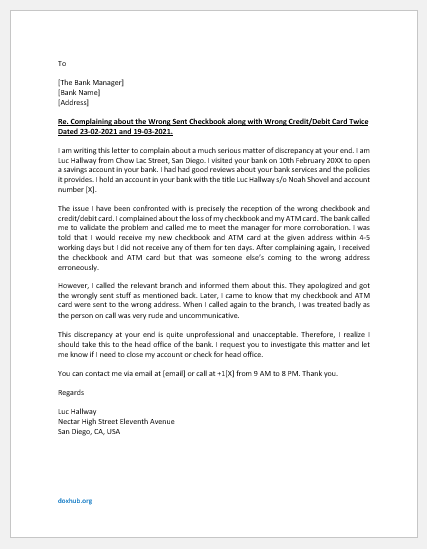 2-
Re. The complaint about not Paying Heed to the Complaint over the loss of Credit/Debit Card.
Dear Sir/Madam,
I am Sherlock Stephen from the High Real Street, San Diego. I have been a client to your bank from 23-03-20XX. I have been noticing from the past three months that there is a disruption in the provision of your bank services.
On 19th March 20XX, I called the branch VXC, San Diego to inform about the loss of my credit/debit card with vide number 3243524-VB and ask for the cancellation of all operations through the card until further direction/instruction. I was satisfied after calling and informing the branch about the loss of the card until I get to the bank by myself, however, I could not find time to get to the bank for a week.
After one day, I received an email from the bank saying that all my balance has been withdrawn and all my credit has been used. My account went into negative crediting and thus all of the balance was used at once. I am completely devastated by the news coming through the email. I was overwhelmingly wondered as I had already requested the bank to stop all the operations through my credit/debit card.
After emailing the bank, I came to know that the bank had not stopped operations through my credit/debit card. I strongly castigate this negligence and unprofessional discrepancy at your end. I am looking forward to the compensation of this loss from the bank as it I was at the bank's disposal to stop all the transactions and other operational tasks. You can contact me at [email] or call me at +1[X]. Thank you.
Regards
Sherlock Stephen
High Real Street, San Diego
CA, USA