1-
Re. Complaining the Denial of Loan from the Bank on Illogical Grounds w.r.t. Application No. 902-DF
I am Helen Strew from High Street Residents, San Diego. I have been a client of your bank since 2011 and it marks ten years that I have been using your bank's services. I have also been a silver cardholder that means I am a loyal customer of the bank bearing some extra perks and privileges regarding bank services.
On 23rd March 20XX, I applied for a loan under the Easy Make Loan Policy of the bank. I applied through an application available on the bank's website. Before applying, I studied all the terms and conditions for the eligibility criteria for the loan. After meeting the Relationship Manager of the bank, Mr. David Roof told me that I qualify all the standards important to be eligible for the loan.
After that, I received an email from the bank's official email addressing telling me that my application has been forwarded for initial scrutiny and examination. Email, further, stated that I will be informed after my first stage of processing completes. I was satisfied enough to get a loan by this email as I come up with all the terms and conditions necessary for the loan application.
On 25th March 20XX, I enquired the bank about my loan procedure and asked for further commencement, but I was shocked by the replied email that I am ineligible to get a loan from the bank. This is totally an unprofessional demeanor and discrepancy at your end as the two emails as mentioned earlier contradict each other.
I request you to look into this matter and let me know about a tangible solution for it as I come up with all the points necessary to get a loan. I shall be grateful to you for this. I am looking forward to your response. Kindly reach me through [email] or +1[X]. Thank you.
Regards
Helen Strew
P-90 High Street Residents, San Diego
California, USA.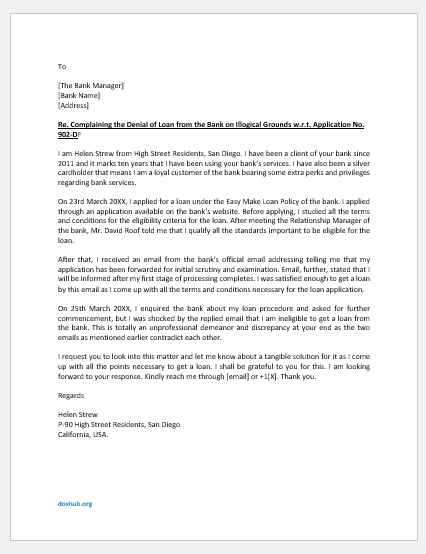 2-
Re. Complaint about Denial of Loan from the Bank
Dear Sir/Madam,
I am writing to bring a significant matter into your kind consideration. With reference to the above-cited subject, I have been drafting to complain to you about a matter of loan. Recently, your bank advertised a loan for the account holders of this bank. It stated that anybody who holds a current account in the Silver State Bank can apply for a loan up to $500,000.
I visited the bank for further information, and I was told that the bank is providing loans for the people who come up with the following terms and conditions.
The age of the applicant should be less than 50 years.
He/she should be earning up to $2500 from a Federal/State recognized and registered firm/organization (private or public sector).
The applicant should be able to provide three affidavits duly signed by the employer of them.
Along with that, an applicant should be an American resident and not a foreign associate.
I hereby state that I come up with all the above-mentioned criteria and terms. I have enclosed all my documents in the letter, please have a look at them to reaffirm and measure my eligibility to get a loan. I lodge a complaint against the loan Supervisor who denied providing me with the loan over illogical grounds. I request you to personally review my application and look into this matter. I will be compelled to take this matter to the local Attorney and Law Enforcement if my loan is denied.
You can contact me via [email].
Regards
Rex Calia
Somalia Tower, Simon Dura Lodges
San Diego, CA, USA