1-
Re. Thank You for an Excellent Presentation

Dear William,
I am drafting this letter to thank you for the excellent presentation you presented last night at the General Alumni Conference 20XX. On behalf of my company, I am obliged to thank you for giving such a high-quality presentation.
Your presentation was very well-structured and well-ordered. All the points were very simply written and clear. I am amazed to look at your play of words and how you convey great ideas in such a simple manner. It was highly understandable. One of the most important features of the presentation was its brevity. I am impressed by your communication skills and your understanding of public speaking. I am writing to appreciate the time you took to prepare, compose, and then present this presentation on such a great platform.
Moreover, I was informed that you are a fresh graduate and not very much experienced. It added to my astonishment and amazement with the mature manner of your communication. Your presentation has left all of us under the spell of your ideas. Our company always wanted a project like that which was complemented by your presentation.
The board of directors wants to engage in a meeting as soon as possible to discuss some points of the presentation so that the project can be operated soon without any hindrances. Kindly inform us about your earliest availability by writing to us at [email]. I thank you again for your effective participation in an outstanding presentation.
Regards
Alex Jordan Kelley Industries, California, USA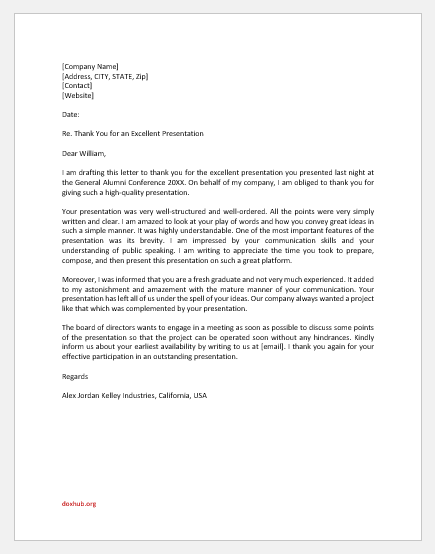 2-
Re. Thank You Note for an Outstanding Presentation at Cross Lenox Conference on 22-11-20XX
Dear Rosy,
I am James Jones from Dior Hills Group of Companies. I am taking this moment to appreciate your outstanding performance at Cross Lenox Conference 20XX on 22nd November 20XX where you presented your business ideas sponsored by Komal Rocket Estates.
Your presentation has left remarkable insights to the representatives of all the great companies who were attending the conference. This conference keeps a crucial and indispensable place for all the IT Companies and other business owners. Everyone flies high in the air of expectations for this conference and your presentation added to the grandeur of that splendid evening. 
I am very happy to approve your presentation to be performed as it has generated an amazing amount of clientage. The pattern followed, lucidity, and brevity of the presentation made it eminent and remarkable. I also thank you for helping us in recognizing a few points that were mostly neglected by many business owners and contractors.
Your presentation was also worthy because it was made right on time when the companies are expanding their business and a new era of growth and expansion is being seen. I received several emails and calls, as a chairperson, appreciating, and highly acclaiming your presentations and ideas. Your communication style left a spell on so many thoughts and created a positive air of fair and pleasant competition in the market. It also gave a message that idea and communication are two key important factors and have more power than capital and credit.
I want to let you know about the stimulating experience we had by hearing from you at the conference. I also thank you for giving such informative and enlightening ideas and showing undiscovered pavements giving new dimensions to the world of business. I would like to be responded to at [email].
Best Regards
James Jones, CEO
Doer Hills Group of Companies,
California, USA