1-
Re. Bonus Announcement for [X]

Dear Employees,
I am Sen Williams, Senior HR Manager, Lettuces Kinin Group of Companies. I am writing this letter to cherish you all with the announcement of a year-end bonus. Recognizing your services, the company has decided to add 7 percent of your waged salaries as a bonus to all of the employees along with their salaries for the month of December.
This bonus is given in the disguise of motivation, encouragement, and appreciation to them for working hard, focused, and with deliberate competence. This bonus is also given to show gratitude for such great teamwork and meeting high professional ideals.
At the end of the year, with complete recognition, it is seen that the company has achieved all of its goals; in fact, it has succeeded the set goals of the year-end for the sales and customer services.
Federal and provincial taxes will be applied to your bonus salaries. Moreover, it is to inform you that this bonus percentage applies to those who have part of this firm for the past at least ten months. Fresh employees are not eligible for this bonus but it is expected that they will get some other incentives at this part of the year.
You are advised to receive this special contribution form for the authorization and submit it after filling in the required credentials before 1st December 2020. With impassioned delight and appreciation, I assure you of the continuance of strive for another successful year.
Thank you.
Regards
Sen Williams,
Senior HRM
Lettuces Kinin Groups,
California, USA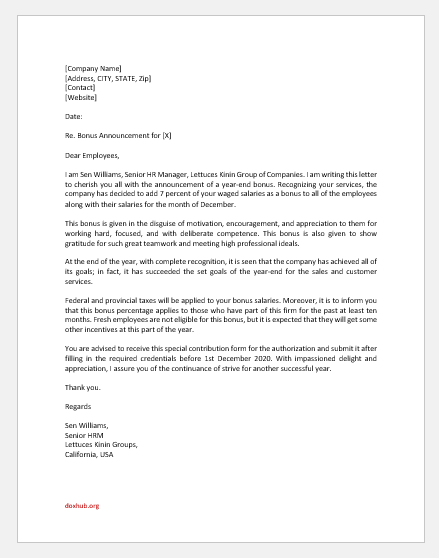 2-
Re. Declaring Bonus in the Wake of your Sincere Contributions
Dear Employees,
I am happy while writing this letter to you as it carries the declaration of bonus for all of you at the end of the year. This year the company has completed all the expected projects, in fact, performed much better than the last year. We realize that this success is due to your untiring hard work and struggle. Your commitment to work led us to write this letter.
I congratulate all of you that with this month ending, we have not only achieved all of our goals but have also exceeded the required amount of finance needed in the end. In the recognition of this aforesaid success, we submit the credit of this success of the dedication and struggle by our employees.
To recognize you behind all this, the board of directors has decided to manage 10 percent of your last year's salary as a bonus which will be given to you along with this month's salary. The bonus will be provided to those employees only who have been part of this firm since 1st January 2020 or before. To get your bonus, you are advised to fill the bonus form available on the company's website and submit it to the Assistant HR Manager before 5th December 2020. Non-filling of the required credentials may trouble you in getting the right amount of bonus.
I end my draft with appreciation and pleasure for your struggle and assure you the same pave to success with your cooperation and assistance.
Thank you
Walton Soul
HR Manager,
JETL Jean Groups,
172, 6th Street, GM Road, California, USA