1-
Re. Discretionary Bonus for Exceptional Performance at NJ International Conference

Dear Rose,
I am extremely happy to share this news with you that you have been awarded the discretionary bonus at this time of the year for your exceptional and worth-acclaiming achievements at the NJ conference. I am penning this draft as a piece of appreciation to you.
NJ International Conference is one of the most awaiting conferences of the year and every corporate company looks forward to it to get certain projects and general the traffic clientage. Your performance at the conference was amazing and it is one of the biggest remarks on your competency. Your super-talented ideas and working capacity are further complemented by the ideals you achieve and your style of representing things.
An hour before writing this, I received a letter from the chairman of the NJ International Conference informing me that they have decided to give the project of corporal financing to us. Our teamwork was very much appreciated by him and he liked your presentation a lot. He praised the presentation for limpidity, brevity, and lucid manner of communication of the presentation. He also appreciated your style of manner and high professionalism kept in front of you.
Rose, you have always been a big asset to our company since you joined back in 2013. You have always benefited us from your professional business ideas and revolutionary stance in the world of business. I convey my cordial thanks to you and also announce a bonus of $1000 for this achievement which is discretionary in nature. I am trying to spare a few moments to meet you in person to discuss a few more important things.
Thank you
Lowman Shin
General Manager,
Mega Power Groups, California, USA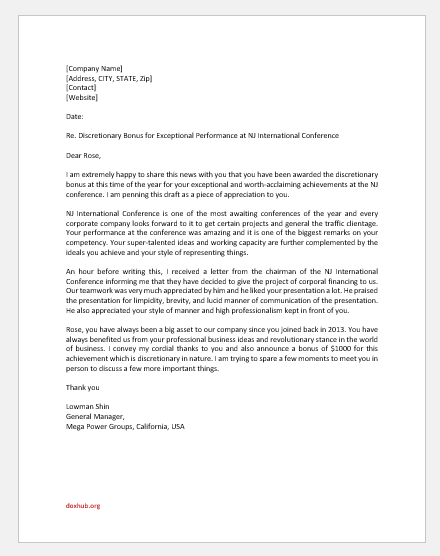 2-
Re. Discretionary Bonus Letter for Superseding the Company's Sale Growth
Dear Mike,
This letter has been penned to you to draft an extraordinary achievement done by you and pay you a discretionary bonus for the untiring services. You have always been seen as a very composed person of the crew and have proved yourself in the forte of Financing and Sale Department. I am very happy with your performance and I feel it direly needed to communicate this to you.
I received an email from the Department of Finance and Accounts who told me about the progress report of the sale and finance. The way you have given an upsurge to the sales of the company no one was able to do this. Your great marketing skills and techniques have benefited the company in an exceptional manner.
I was informed about the Gross Monetary Value of the company. The difference between GMV (Gross Monetary Value) of the previous month and the current month indicates a lot about your services. The way you steered the sales management and accounts department was amazing and it will be always regarded.
To regard this achievement, I announce a discretionary bonus of$750 for this achievement of you. Your belief in professionalism and teamwork has always benefitted us in several different ways and one of them is this phenomenal increase in GMV of our company. I convey unbound gratitude and appreciate you for your untiring services to this company. Please write to me to arrange a meeting soon at [email].
Thank you.
Regards
James Jill
Hill Finance and Marketing, California, USA