1-
Bundle of thanks to you for working on my behalf. My visit to the Maldives was a hard nut to crack without your assistance. I cannot thank you enough for what you have done for me. It was impossible for me to enjoy it if you did not take the responsibility to work on my behalf. In this materialistic age, no one goes to such an extent of kindness. You not only compiled my work but also arranged my files in order. 
I will be there for you if you plan to go on any tour or want to take some leaves from the office. I will work on your behalf too. Thanks a bunch for assisting me and proving one of the persons of my life. Stay blessed.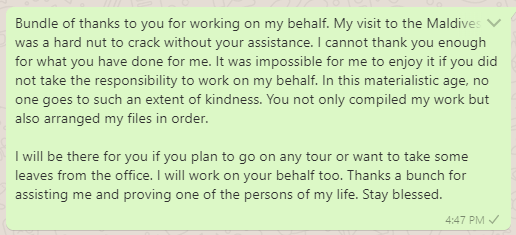 2-
I appreciate and encourage your willingness to work on my behalf during my absence. I was much relieved to know after I came back from illness that you had done your job well. You executed each task deliberately and with great attention. I really thank you for all this.
I, from the bottom of my heart, thank you for handling the work and coming on to the expectations of each customer. You have done an exuberant job and have set a good example not only for me but for others also. If I were at your place, I could not have handled the job so efficiently. But hats off to you for reaching beyond my expectations. You are a gem and I will never forget this act of yours. Thanks once again.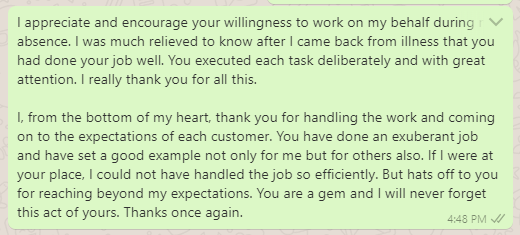 3-
There is no denying the fact that you are an amazing and responsible employee. You had done an excellent job in performing all tasks timely during my illness. It was impossible for me to carry the office responsibilities after I met with an accident. You wiped out my all worries by taking a big responsibility. You are proud of the company. Whenever you will be in need I will take all the responsibilities. I will assist you in all ways.
One cannot expect such loyalty from colleagues. But you did an amazing job and performed well. Bundle of thanks to you from the core of my heart. Always stay blessed.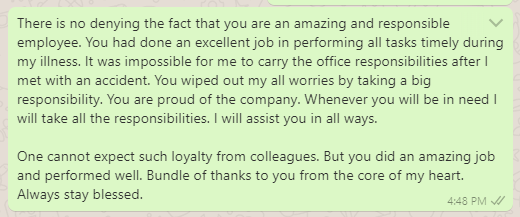 4-
There is this famous proverb, "A friend in need is a friend indeed." It seemed to happen in any fictional story. But you proved it in real and I am blessed to have you as my friend. I was in great worry to think that who will take my work responsibilities in my absence. But you solved all the problems. You not only handled my project but also assisted in many other works.
It is very difficult to find amazing people like you nowadays. I can never pay you back for what you have done for me so far. I really owe you for all this assistance. Your tireless striving on my behalf will set a good example for other workers too. You have covered me in an excellent way. Thank you once again.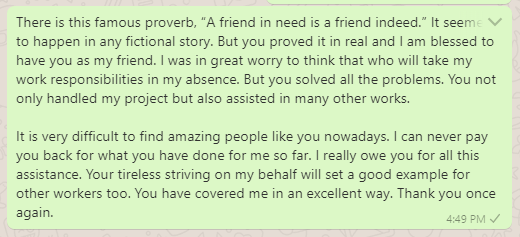 5-
Thank you, Elizabeth for filling my shoes adequately while I was on the Australia trip. This trip could not have been possible without your assistance. I could not have enjoyed it at its full unless you promised to work on my behalf by working extra hours. I was in seventh heaven after listening to all this.
You have performed all the tasks perfectly even better than me. I was very happy when my clients told me that you were very kind to them and assisted them in every possible way. Much thanks to you for doing all this for me. May you be blessed always.