1-
Most respectfully, it is stated to you that the tuition fee for the month of February is due against Henrik Royal. He is a student of grade 8th. It is our humble request to you to clear the remaining dues within the next three working days, pay his school fees immediately. Moreover, an installment facility is also available now. If it is not feasible for you to pay full fees, then you can pay in installments.
A circular of this announcement has been given to students. There will be an imposition of penalty and fine against your child after the given date. Your kind attention towards this will be an appraisal for us. Thank you.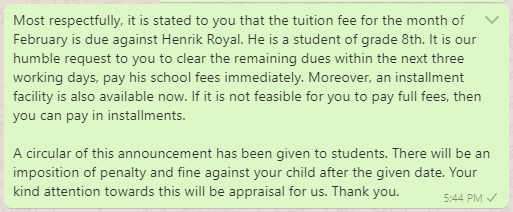 2-
Dear parents, with due respect it is stated that this last reminder to you regarding the submission of tuition fees. Three weeks/months have been passed now but you have not paid the tuition fee of Jane. It is our humble request to you to please clear the dues to avoid any further inconvenience.
You can also pay the fees in installments and for your convenience, this facility has been introduced. Otherwise, you can pay it online also. In case of further delay, we are not going to give any kind of discount and your child will have to face a penalty then. Kindly make it possible till the 18th of this month. Thanks in advance.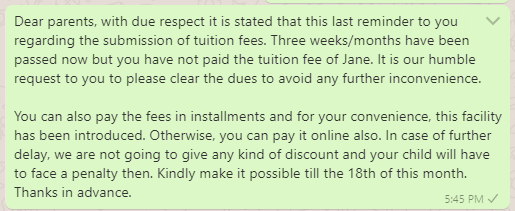 3-
Dear parents, it is stated with the utmost respect to pay the tuition fee of your child for the month of February till the 15th of this month. After the due date, you have to pay a 5% fine for the late submission of the fee. So, it is our gentle request to you to submit the fee by the given date. If you still not pay the fee at a given time, then your child cannot take his classes as per school rules.
So, to avoid your child from this inconvenience pay it on time. The rule for fee submission has been changed from this month. You can also pay it online. For further information, you can visit the official website of the school or you can visit the administration office. Thank you.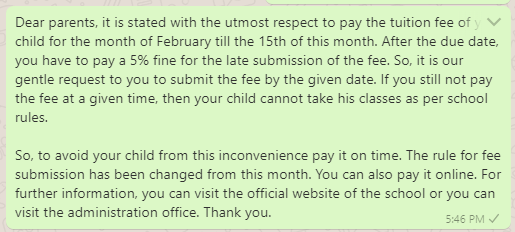 4-
Dear parents, hope you will be doing well. Your daughter Rebecca is a student of 5th grade in our school and is always appreciated by her teachers. We want to draw your attention to the remaining fee of your daughter for the month of January. You are requested to deposit January's fee this week. This is to save your child from any discomfort.
She is allowed to sit in the class for this week only. In case if you do not deposit it then we are compelled to not allow her to sit in the class. With this message school fee voucher is attached. If you cannot pay it fully, then the installments option is also there for you and you can avail of it.
If you want any information in this regard, you can visit the administration office. Thank you.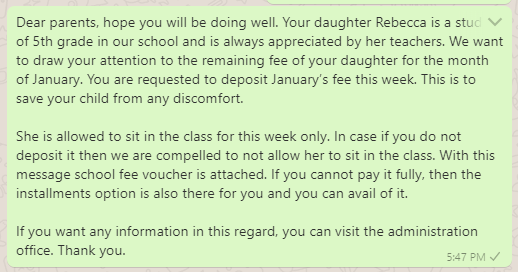 5-
Dear parents, it is a gentle reminder to you regarding the tuition fee submission for this month. As per the new policy of the school, you are requested to pay the fee before the 15th of every month. After the said date you have to pay 50$ as a fine. If one does not pay the fee till 25th then his/her child cannot take classes. Kindly, keep this reminder in your mind.
Ignore this message if you have already deposited the fee. We endeavor for the better future of your child. Do come and visit the admin office, in case of further information. Thank you.