#1
This letter is written to you to warn you for not showing up to work for a while. It was exactly a month ago from today that you had asked me for issuing you the leave for 10 days as you had to leave for your home station in Wales. I had complied as well with a strict instruction to be back as soon as your leave ends, as right after that was to be a meeting with our board of directors and foreign delegates and being a chief administrative officer, your presence was highly required in the meeting.
Your absence in the meeting posed a negative impression of our branch in front of the delegates and they asked me to hire a more competent and responsible administrator at your place.
If you had informed me for once after your leave ended and told me any valid reason for not being able to make it to the office on the joining day, I would have defended you in front of the management as you have always proved to be a hardworking and an honest employee.
However, your act was seriously taken into consideration by the board members, and I am asked to fire you for that if you still do not get in touch in the next three days. We are sorry but we cannot afford more loss as the company branch is seriously suffering due to the absence of a chief administrative officer. There have been mistakes and irresponsible attitudes of the administrative staff as they had no one to report directly to and scrutinize. This is seriously unacceptable behavior.
Hence, I am warning you that if you do not report back to me as soon as possible within these upcoming three days' time span, you would have to lose the job eventually, and then no one, but you would be to blame. Take it as an order or a warning, I need you to be back to work, or your resignation letter in due time. I hope you understand the gravity of the matter. Kindly treat this matter as most urgent.
Yours sincerely,
Harry Jones
CEO
Lenovo UK Ltd.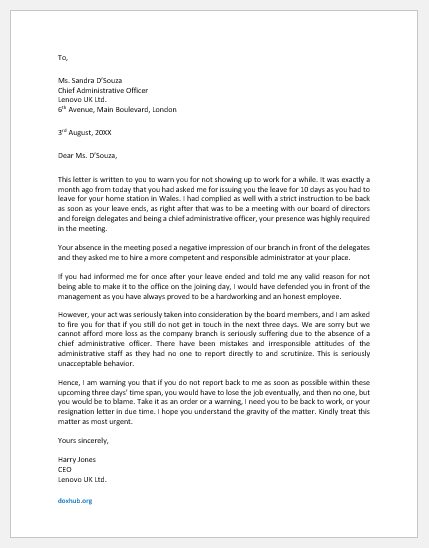 #2
To,
Ms. Selina D'Costa
Deputy Superintendent Police
6th Avenue near Parkinson Lake
New York City
1st August, 20XX
Dear Ms. D'Costa,
This letter is written to you to summon you to the 6th Avenue Police Station on Tuesday, 23rd July 20XX. This summons has been issued to you because of your recent irresponsible behavior at work. Recently you had been granted leave for the previous weekend where you stated the illness of your child as the reason behind the leave. Since then, you have not reached out to the authorities for any updates on your whereabouts or to request an increase in your leave which proves your irresponsible behavior towards your job. This is unacceptable for a police officer to exhibit while being a part of the most efficient police in the world.
The DCP held a meeting of all the police officers of New York City and each branch head had to report directly to him by providing him with the latest security updates. I faced issues in gathering all that information alone as it was your job to keep me updated on daily basis regarding the security of our area. It was an embarrassing moment for our branch officers as I had to tell him about your uninformed and unexpected leave. You already have been issued with two warnings at the start of this year no matter what your reasons were.
This is the last and final warning to you for such negligence and irresponsible attitude. You are summoned to the police station within the next 48 hours after which your matter would be forwarded to the police headquarters, and no one would be able to help you with retaining your job anymore. I hope you will sense the gravity of the matter and comply respectively. Good luck!
Yours sincerely,
Henry Roberts
Senior Superintendent Police
6th Avenue, Harley Street
New York Police Station