1- For not following instructions
The management has received a complaint from your supervisor about your insubordination at work. It has been reported to us that you do not follow instructions and adopt your own approach towards the completion of tasks. We are, therefore, sending you this warning letter against your disobedience towards your supervisor.
You are reminded that the company rules encourage teamwork under the leadership of respective supervisors. Challenging the authority of your supervisor or manager is not acceptable. You may discuss your independent ideas and strategies. However, all employees must follow the given instructions so that everyone in the company works in harmony.
You are advised to pay heed to this warning. Future complaints about you regarding this matter would compel us to take serious action.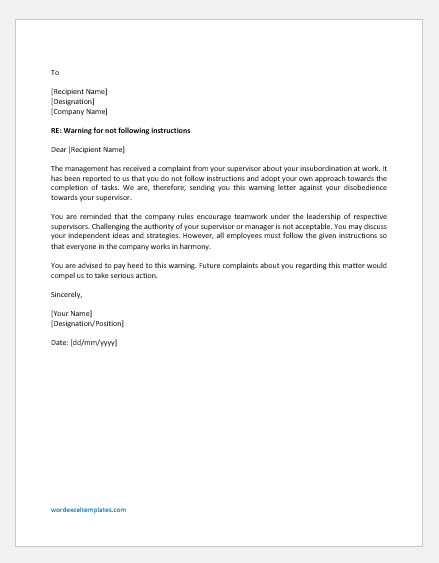 2- For not following the company's policy
This is with reference to the seminar held on Thursday, 20th May. You invited a personal guest to attend the event which is against the company's policy. Outsiders are not allowed to attend any of the company's events unless authorization has been provided to them by the higher management under special circumstances.
You are warned against breaking any policy rules in the future. The management will be compelled to take strict action against you in case of non-compliance.
3- For not following procedures
This is an official warning for not following the approved procedures while processing customer orders. Several complaints have been received against you regarding this matter.
You are strictly advised to go through our SOPs again. Any negligence in the future might cost you your job.
Kindly speak to your supervisor for further guidance.
4- For not following dress code
It has come to our notice that you have not been following the official dress code. Your casual dressing has a negative impact on the overall work environment in the office.
You are, therefore, instructed to dress up appropriately in accordance with the code laid down by the company. This must be done with immediate effect.
We hope there will be no future complaints regarding this matter.
5- For not following the SOPs
This warning letter is being issued owing to your negligence of the company's SOPs. Your disregard for the required procedures can have serious repercussions for the company's image in the market.
The management warns you against your blatant negligence. In the future, you must strictly adhere to the SOPs in order to avoid serious disciplinary action.
6- For not following the company's rules
Your supervisor has reported that you have been bringing your child to work for the past 1 week. Although we sympathize with you for being a single parent and understand your difficulties, it is against the company's rules for employees to bring their children to the office.
Kindly make alternate arrangements for your child as soon as possible. Regretfully, we will be compelled to take action against you in case you fail to follow our orders despite this warning.
You have been a hard-working and productive employee so far. We hope you continue to show sincerity towards your job and follow all the official rules.
7- For not following rules
It has come to our attention that you have not been following the rules regarding the employees' interaction with clients.
Let us remind you that according to the company's rules and regulations, you are strictly forbidden to have any personal interaction with any of our clients. However, we have received reports that you have been providing your personal phone number to a few of our clients.
This disregard for the company's rules will not be tolerated. You are strictly advised to maintain a professional relationship with the clients.
Be more careful in the future regarding this matter.
8- For not following safety rules
With reference to the health and safety SOPs issued on 11th March 20XX, all employees must wear a mask in office and observe the required social distancing. However, complaints have been received against you that you often neglect these important safety rules.
Your job will be at risk if you show negligence in the future. You must adhere to these rules for the sake of your own health safety as well as your colleagues.