Sample -1
Subject: Letter requesting cancellation of gym services
Dear Sissel,
I hope you will be doing well these days. I am Neil Johnson, a member of your gym for the last 5 years. I am formally writing this letter to inform you about the cancellation of my gym membership. I had subscribed annual membership plan and had been exercising regularly within the gym premises. In fact, I enjoyed a lot while getting guidelines from your gym about how to remain physically fit throughout the year. There is no exaggeration in saying that instructors at your gym are doing a great job to help customers keep their body fit.
I was satisfied with the services provided by you but for the sake of my business, I am shifting with my family to another town. Due to this reason, I will not be able to get benefit from your excellent gym services.
You know this is the starting month of the year and I have renewed my membership for this year as well. I have come to know through one of the senior members of the gym that a member will be liable to be paid 70 percent of his deposited membership fee if he wants a refund. Owing to circumstances, I hereby forward my request to cancel my gym membership and take some steps to refund [US$] which I have deposited in your account in lieu of the annual membership subscription fee.
I am waiting for your positive response in this regard.
Yours sincerely,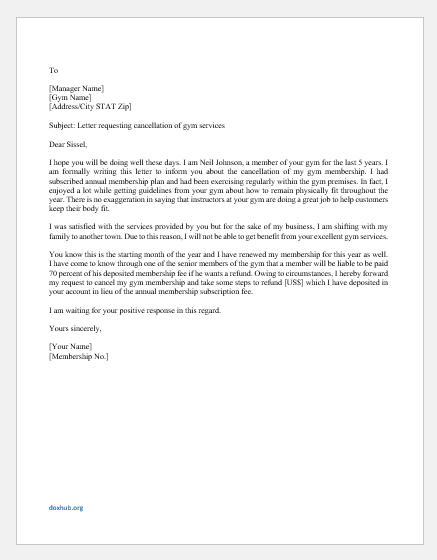 Size 21 Kb
Download
---
Sample -2
Subject: Letter requesting the cancellation of fitness services
Dear Smith,
I hope you will be enjoying the best of health and spirit. My name is Johnson and my purpose behind writing you this letter is to inform you about the cancellation of my membership with your fitness center. I was allotted the registration number X136 and I have been attending your fitness center for the last two years.
The Standard of the services provided by the instructor at the time when I joined your fitness center was quite satisfactory and I was happy to see his dedication and sincerity towards the members. What forced me to withdraw my membership with your center is the lack of dedicated and sincere services in your staff you hired in the recent past. Your new instructor does not pay any attention to the members' query and his behavior with them is also not good. I had informed the management a couple of times before about the issue, but they did not take any steps in order to resolve the issue.
Keeping in view the situation, it is not possible for me to continue with your fitness services, so I request you to cancel my membership with effect from 01-08-20XX. I am informing you 30 days in advance to give you enough time to process my request. Thanking you in anticipation.
Yours sincerely,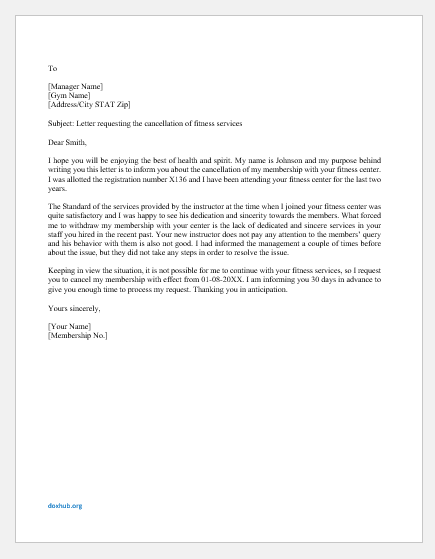 Size 28 Kb
Download
---
Sample -3
Subject: Letter requesting cancellation of cleaning services
Dear Harris,
I am Anderson, a client of yours who has been using your office cleaning services since X of June, 20XX. I am regretfully writing to you to inform you that I will not be taking your services from [DATE]. As a client, I was quite contented with the level of services provided by you. Without any exaggeration, we enjoyed a good relationship and you never gave me any chance to complain.
Despite our good terms, I will still be taking services from another cleaning service provider company. My office opens at [TIME] and they are agreed to serve me early in the morning, even much sooner than you and that's why I was forced to use another company's services.
Our contract is going to expire on [date] and as per my calculations, you have charged from me six months' advance fee in order to provide hassle-free services. Since I am canceling the services, therefore, I request you to confirm this cancellation within 10 days through an acknowledgment email. After this period, I will automatically assume that the cancellation has been done. And at the same time, I request you to refund my amount [US$] paid in lieu of an advance fee.
You may contact me on my cell number after [TIME] if you have any other queries regarding service cancellation. Feel free to contact me.
Yours truly,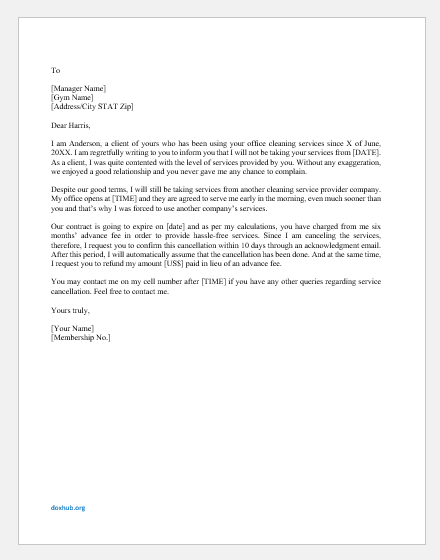 Size 20 Kb
Download
---
Sample -4
Subject: Letter requesting cancellation of tuition services
Dear Sir,
This is Anderson, student of A-levels in your institute under registration number XZ23. I had been taking the tuition services offered by you for the last three years. I had the great pleasure while utilizing the tuition services offered by you. Thank you for guiding me in the best way. Regretfully, I am writing this letter to inform you that I will no longer need your services from [mention date].
Although I was quite satisfied with your services but had to take this decision due to unavoidable circumstances. I am shifting with my family to Los Angeles which is 700 kilometers away from our current state. I will be missing kindhearted tutor like you but traveling that much distance is not an easy task on a daily basis. Therefore, I request you to send me an acknowledgment email to make me sure that my tuition services cancellation request has been confirmed.
I am also enclosing with this letter a sum of [US$] in lieu of fifteen days tuition charges for the current month. You can contact me for any further queries on [email].
Yours obediently,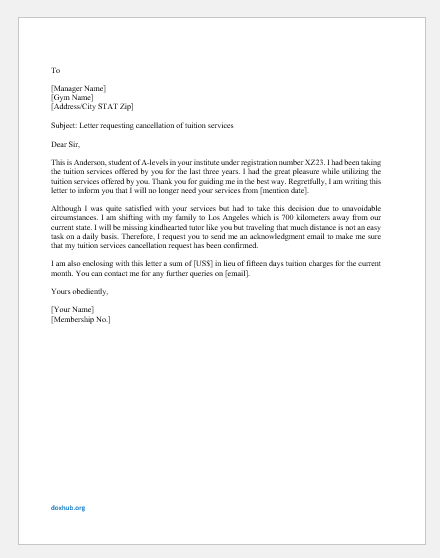 Size 21 Kb
Download
---
Sample -5
Subject: Letter requesting the cancellation of SPA services
Dear Johnson,
This letter must be treated as a formal intimation from me that I wish to cancel the SPA services provided by your company. I had acquired the membership on an annual basis which is going to be expired after 4 months.
Although I am pleased with the standard of your SPA services but owing to a family matter, I have to move out of town for at least 5 months and hence, I will not be able to avail of your services. Keeping in view the situation, I request you to consider my letter as four months' notice for service cancellation. According to the terms and conditions, in order to get a refund, it is necessary to inform the manager well before time in case of service cancellation. I have done the same and therefore, I also request for refund of my remaining month's charges. 
I would like to pay my regards to you for the provision of excellent services rendered by your staff. I would say special thanks to Mr. Lee, a SPA expert. After each session of his SPA treatment, I always felt energetic enough to get rid of the stress.
Please inform me through an acknowledgment email to confirm the cancellation and take the necessary steps to proceed with the refund also. I can be approached at [email]. Feel free to contact me regarding the matter.
Yours truly,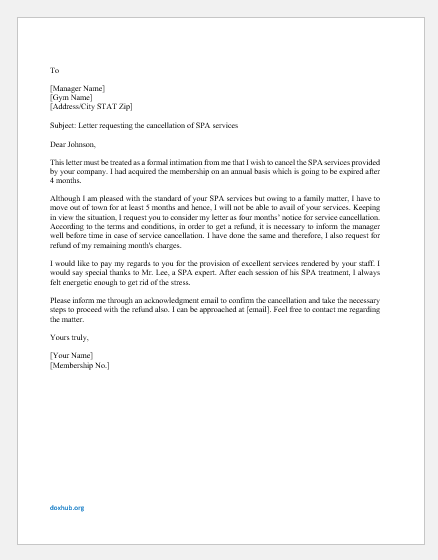 Size 20 Kb
Download