VISITORS RECORD SHEET
A visitor log plays an important role in various organizations. It is widely used in the hotel industry. Similarly, it is also an important document for various other companies. It records information about any outsider visiting an office. A visitor's name, his / her contact details, and purpose of the visit are recorded in the log.
Visitors can be contacted later on by using the information stored in the log. On the other hand, it can also be useful for security reasons. The visitor log can be checked later to know who visited the office on a particular day. The use of a visitor log is a little different for the hotel industry. It records information about guests staying in the hotel.
VISITOR LOG TEMPLATE
The log can also be used for information about people visiting the guests during their stay. In this way, no suspicious person can enter an organization. Many offices take help from visitor log templates which are easily available online. You can find different formats. A template with the most appropriate format can be used. Alternatively, changes can also be made to customize your log template. Each organization can add its logo at the top for the purpose of customization. Small organizations, such as educational institutes, can use simple templates.
These templates can be printed and used as an official record visitor logs. On the other hand, larger organizations usually maintain computerized visitor record sheets. It makes the process of storing information quicker. At the same time, looking for a past record is also easier in the case of latter.
PREVIEW & DETAILS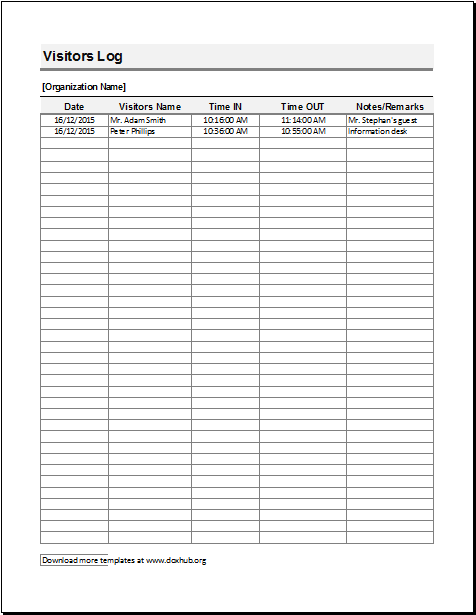 VISITORS LOG TEMPLATE
File Size: 28 KB mobile [Android+iOS] & iPad
Download Excel (.xls) 2007 & 2007+
File Size: 20 KB
Download OpenOffice Calc (.ods)