VACATION REQUESTS & OFFICIAL FORMS
Employee vacation request form is used by companies and businesses these days. Each and every company has some rules while permitting their employees to go on vacation and the employees are also bound to follow those regulations which the company has set for them. This form is prepared by the company in order to get all the relevant information about the employee who wants to go on vacation. This form is very easy to use and very useful for not only company but also for the employee as it makes it easy for an employee to request for the vacation.
The form includes all the relevant information such as the employee code, his duration of vacation which he wants to get, the dates on which he would not be available to work and also his past holiday's information which enable the company head to decide whether that employee is eligible to get these holidays or not. The reason of vacation is also very important to be mentioned in the form as it is the basis on which the vacation can be allotted to the person.
Employee vacation request form is such a form through which the employee can directly apply for getting holidays. There is no need to write long applications or anything when this form is here to be used. It also saves the time of the person. You can prepare your own vacation request form or several other templates are available on the internet, which is ready to be used.
PREVIEW & DETAILS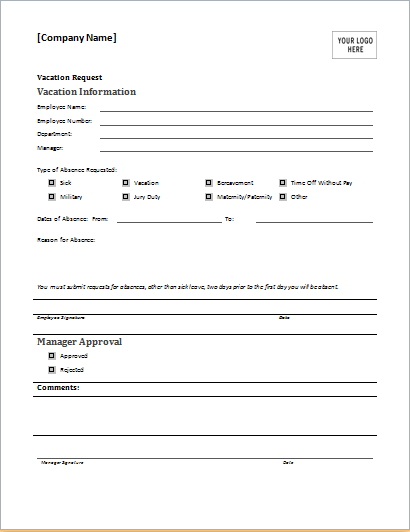 EMPLOYEE VACATION REQUEST FORM TEMPLATE
File Size: 37 KB mobile [Android+iOS] & iPad
Download Word (.doc) 2007 & 2007+
File Size: 17 KB
Download OpenOffice Writer (.odt)