Customer Satisfaction & Survey Forms
In any business or any field client satisfaction is the most important thing in the eyes of an organization. Definite client satisfaction survey form shows the customer insights of how good or accurate a company performance or reliability is.
Client satisfaction survey form opens the understanding that will help you making knowledgeable business choices. customer satisfaction survey may consists of variety of documents that mainly focus on punctuality, staff awareness, and recognize possible customer experience concerns. From response of the clients on merchandises and facilities you provide, you can assume a Net Promoter Score (NPS) that will help you making your business better. The survey form gives you the understandings and thinking of common people to make improved decisions. In detail, this presented that businesses that focus more on customer satisfaction are more successful than those who don't pay much attention to it.
Making customer satisfaction surveys has never been stress-free. But you can use professional help or make a team of your own to work on that and make a form that is simple to implement and does not need any software design or progressive research assistance. If it's your first time or you're an expert in Market Research, there are pre-built templates available to guide you.
Surveys when collected can be examined data and use to generate reports. Data collection is presented to you and you have to grasp what is necessary for you. Once you made the form, you will be able to conduct surveys regularly.
Preview & Details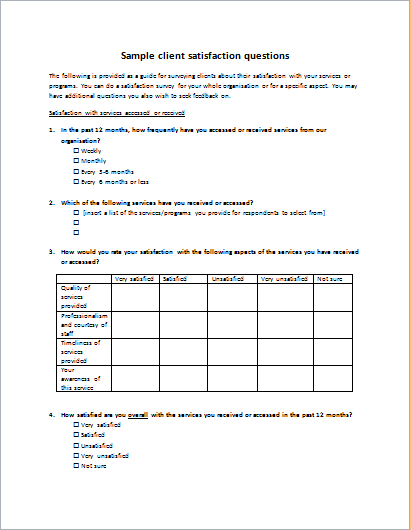 TEMPLATE
File Size: 119 KB mobile [Android+iOS] & iPad
Download Word (.doc) 2007 & 2007+
File Size: 20 KB
Download OpenOffice Writer (.odt)