1-
Re: Invitation to Tender no. 9B8932/2019 Dated on 23-11-XX and Due on 22-03-XX

Dear Max,
I am Goodwill Nectar, the General Manager from Coy Rox Dairy and Bakes. I am composing this letter on behalf of the company to invite you to the tender notice no. 9B8932/2019 as a sub-contractor. As you know this project is one of the dominant and most complicated projects which involves a lot of muddle regarding the construction of the complete building in a very short term. In the short term, we want you to share the project as a subcontractor to lowering the risk and sharing the profit at a given strategy.
We invite you for the project which is lined up and the tender has been issued. This project can add to your expertise and skills. The project involves a total cost of 200 million dollars and thus involves complex technical handling of the project.
We are building a team that is devoted and profoundly committed to this project. Competent and qualified teamwork is wanted to stipulate the execution of the project within the proffered parameters.
We are inviting you to outsource your skills and services to this project of construction of Coy Rox Dairy and Bakes franchise-II. This involves a lot of hard work and capabilities in this project. We will provide you construction bond on joint capital. Other things like investment, capital, revenue, taxation, and interval payments can be discussed and negotiated after the meeting.
Please inform us about your earliest availability so that further settlements can be made. Please respond to us at [email] or ring us at [X]. Thank you.
Regards,
Goodwill nectar,
Head office, Coy Rox Dairy and Bakes,
98-H/2 Synthin Heights, California, USA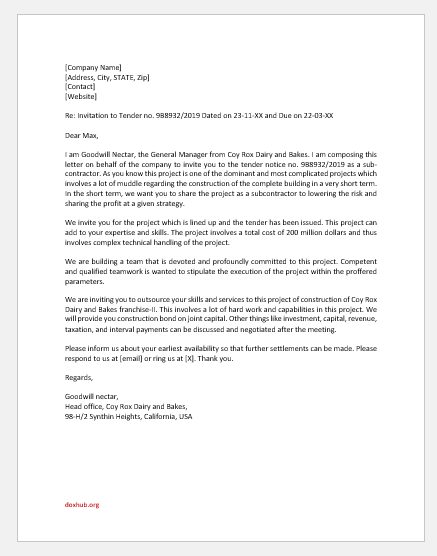 2-
Re: Invitation to the Tender notice 234/E2020 on the Project of Sherlem Business School, University of Commerce and Business Dated 23-11-20XX and Due on 23-01-20XX
Dear Nanny,
This letter has been drafted with references to the tender as mentioned above in the subject of the letter. I am delighted in taking this opportunity to invite you to this tender and work as a subcontractor in this project. The project belongs to the Information Technology (IT) expertise and hence related to IT operations and functions.
The project involves shifting the whole system of Sherlem Business School of University of Commence and Business (UBC) which is currently on ordinary data entrance, to a wireless coded system using advanced technology of CMV processing. This project pertains to a high-profile university that keeps an eminent position in the country that is why the project needs to go very well. The university administration wants this work to be done within two months which is the shortest possible deadline.
To produce an astonishing quality work within such a short span is complicated and can involve various errors and wrong judgments. Converting ordinary systems to CMV programming needs a great deal of expertise and involves a lot of skillful handling. Keeping in view the need for more careful tackling for a project like this which is likely to be sensitive and critical, we invite you to participate in this project execution as a subcontractor.
Please respond to us at or you can also dial [X] to talk to me directly. Also inform us about your earliest feasibility for a meeting so that more details regarding profit, state tax, purchase, and production can be discussed. Thank you.
Simon Row,
General IT Manager
IT Emissions, 23rd Alley Rick, California, USA