Letter -1
Re. To Negotiate on the Resignation Submitted by You on 04-01-20XX for the Ambiguous Blemish Reasons and Hot Talk with the HR Manager

Dear Barrel,
This is Michael Jonathan writing to you to address one of the important problems in front of me. You have been not less than a wheel of the motor of this company and the entire working processes ongoing here.
I am writing to you to calm you down and take a step back from the resignation that you submitted on 04-01-21XX. I understand that you were furious for your reasons albeit negotiable but there are times when we are not in the position of producing logical reasoning and blister to take an action. I believe you did not do anything but furiously responded.
As I am here to understand you completely and propose my absolute assistance in the matter, I would like you to consider taking back your sudden resignation. This sudden halt to ongoing employment can affect your profile and career both to a larger extent and you might feel despair in these unprecedented times of Covid-19 while seeking another opportunity.
I officially suggest you review your decision of ending with [X] in the heat of the moment and check-in with all the pros and cons it may bring. Moreover, I would like you to negotiate the matter rather than resigning over this trivial matter which can be called a matter of miscommunication, misunderstanding, or more accurately a moment of furry which has gone.
To not let you get troubled I have rejected your resignation letter and intend to provide you ample time to think upon it by giving you one day off from the work. Please report me about your final decision on 6th January 20XX so that I can personally investigate the matter further and get the matter resolved on negotiable grounds. I would like to have a response email from you at [email] or call me directly at +[X]. Thank you.
Good Wishes
Michael Jonathan
The Managing Director (MD)
EMMAX Groups of IT
23/D-8 Lexicon Square, California, USA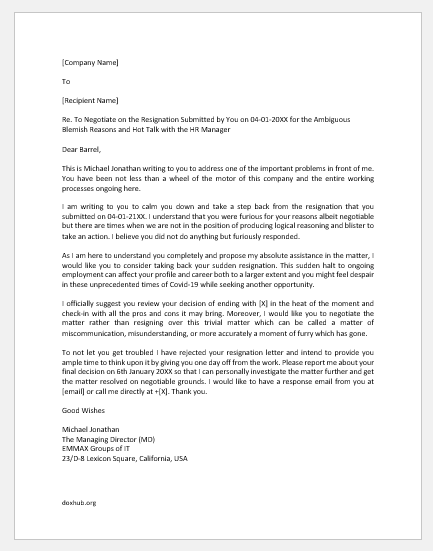 Letter -2
Re. Response to the Resignation Submitted on 04-01-20XX due to the Workplace Harassment and Unprofessional Demeanor of the Supervisor
Dear Fox,
With reference to the subject as cited above, I am composing to address an important event that occurred on 04-01-20XX. On 4th January 20XX, I came to know about your serious concerns on the prevailing issue at the workplace which was harassment and the unprofessional and biased/sexist attitude of Mr. Jack aka your immediate supervisor/team leader.
The complaint from you was quite shocking and the behavior of Mr. Jack remarked by you was unexpected albeit worrisome for me and many others.
On the same day, I received your letter which was categorically your resignation from the job. These two subsequent events were shocking and completely startling for me. Verily, it was daunting to have such a bewildered attitude of professionals of this company where we make sure to train our people basic workplace ethics and professional devouring.
Now, turning over specifically to your resignation, I opine that it deserves to be reviewed after a profound understanding of the outcomes the decision might bring. I believe you took this step in the heat of the moment and being furious dementedly. Therefore, I have decided to let the matter settle down after a straightforward and transparent proliferated inquiry and then negotiate on the resignation.
I am giving this time to you to rethink if resigning from the office could be the only solution. It can procreate a number of other issues like unemployment, financial breakdown, and troubles in seeking and finding another reasonable job to settle on. Hence, I advise you to stay in the office and keep working until the board of inquiry committee completes its investigation of the matter and conclude accordingly.
For more, you are welcome to meet me directly during office timings in my office to negotiate and communicate anything further. You can also email me at [email] or call me at +[X]. I shall be grateful and delighted if you take a moment to consider my suggestion. I assure you that we will provide you complete assistance in this regard along with working security and liberty. Thank you.
Regards
Nile Fucidine
The General Manager
GHK Group of Companies
Simon Dura Square, California, USA