It is easy to meet our colleagues and friends without prior notice, but when it comes to meeting with higher officials at important posts, the task of the meeting becomes highly arduous. Their time is precious as they don't find much space between their official schedules; therefore, we often find ourselves in trouble when it comes to arranging a meeting with them.
Some of us use our sources to convey the meeting request but most of us give up the hope of meeting them due to lack of ability to tempt the person in meeting us. Still there lies an option for us that could be used to tempt the person in arranging some time to meet us. Indeed, the option of letter writing is the best way to request a meeting with the concerned person.
The content of the letter could play a very important role in the way of managing a meeting with the concerned person.  Firstly, you must mention the reason behind your letter so that the person could get directly in touch with your message. The message should be short yet long enough to explicitly clear your intention of writing.
After writing the intention in the first paragraph, you must dwell upon the thank you note in the second paragraph. Although it might seem like an attempt of buttering people at the important position do consider these things. Most importantly, you must mention your address and phone number at the end of the letter so that the person could get in touch with you after reading the letter. Surely, such a letter will appropriately fulfill your purpose.
1-
Subject: meeting request letter for [X]
Dear Johnson,
I hope you are doing well. I would like to say thank you for your kind visit to our company last week. During your visit, certain plans were agreed and initiation of business partnership between our companies was one of them. Feeling the importance of this partnership and in continuation to our business discussion, I hereby request you to schedule a meeting at your convenience.
I have directed my team to prepare an attractive presentation about all the plans which we discussed last week. Financial information and timeline are the most important components of any plan and these have also been incorporated.  
For your better understanding, my team has provided a comprehensive business model in the presentation. Key performance areas and other tasks which are to be entailed by this partnership have also been discussed in the presentation. You know that the success of any business partnership is heavily dependent on the cost to benefit ratio.
Considering it, my team has provided financial guidelines along with all the benefits which might be derived from this partnership. I hope you will surely arrange a meeting with me after reviewing this presentation. For reference, I am sending you the crux of important points which might be discussed in the meeting.
It is my utmost desire to schedule a formal business meeting with you as early as possible. This is the way through which we can share successful business strategies with each other. Moreover, I am looking forward to launching a new product in the market by the end of next month. To get a mutual benefit, I wish to initiate our business partnership before this month ends.
To finalize our business partnership, it would be my pleasure if I could get the appointment during this week. Thank you in anticipation for considering my request. I am looking forward to establishing long-term business relations with your company. To schedule a meeting, please contact Ms. Julia at [contact number].
I am looking forward to hearing from you soon.
Regards,
Anderson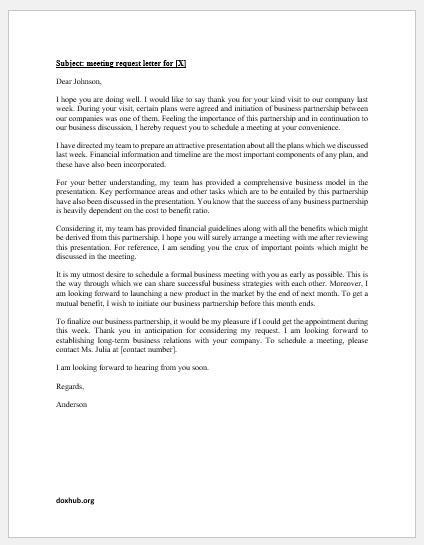 2-
Subject: meeting request letter for [X]
Dear Johnson,
As discussed in our last sitting, I am seeking an appointment of meeting with you through this letter. You can schedule it at your convenience. I want to meet you personally to discuss some business proposals with you. I hope you will be impressed by my unique business proposals, innovative ideas and wish to establish a long-term business partnership with my company. I am sure that we can get mutual benefit from each other and grow together. By establishing a successful business partnership, our companies would be top-ranked.
Basically, we have provided consultancy services to many renowned companies in the country. Apart from these companies, many non-profit organizations have also been benefited by virtue of our business consultancy. We aim to provide our services in terms of the business development of our clients.
To cater to their needs, we are also conducting market surveys, making financial guidelines, integrating manpower, and streamlining all those activities which are concerned with routine operations within an organization.
This meeting between us would be a unique opportunity for both of us. We could share our ideas in a broader sense for modern and sustainable business strategies. If you need any clarification in this regard, you can contact me at [contact number]. It will be my honor to share the relevant information with you. To get a clearer idea about our vision, you may visit our website. There you will find various services being offered by us.
Keeping in view all the facts, I request you to schedule the meeting at your earliest. We would be able to address our common problems and find out their possible solutions as well. In this way, we would grow together.
I am waiting for your positive response.
Regards,
Allan Joseph