BARBECUE INVITATIONS
Actually, BBQ is a tradition of making foods in an open area. When the summer season starts, people sent BBQ invitation cards to their beloved ones and they celebrate BBQ party in the garden which is an open area and it gives serenity to them. BBQ party also gives tranquility to the people. Barbecue parties are called for in order to make the friends, family members, and relatives enjoyable. Barbecue party invitation cards are just sent to the people in order to let them know that why BBQ is done. It is just because of all gathering and for fun and for amusement.
BBQ invitation cards are not sent to the beloved ones aimlessly rather they are sent in an artistic and most importantly they have decorated artistically. When the hosts sent this invitation card they make the card look wonderful by designing numerous things on them. Moreover, there are countless BBQ invitation cards are available in the market and if you are unable to make one by yourself then you may buy from the market.
BBQ party can be called at any occasion, for example, if you have bought a bungalow and your relatives are asking you for a party simply you can arrange a BBQ party for them. For all this, you need to make invitation cards and then invite all you beloved colleagues, relative, family members and so on.  And in this modern world, people are in search of a chance as they can arrange a BBQ party and as they can have to get together with their friends, relatives, and family members at one time and want to have gorgeous time and fun with all of them.
So, it's up to you what kind of BBQ party you want to have casual or for fun. Therefore, you need to make BBQ party invitation cards accordingly.
PREVIEW & DETAILS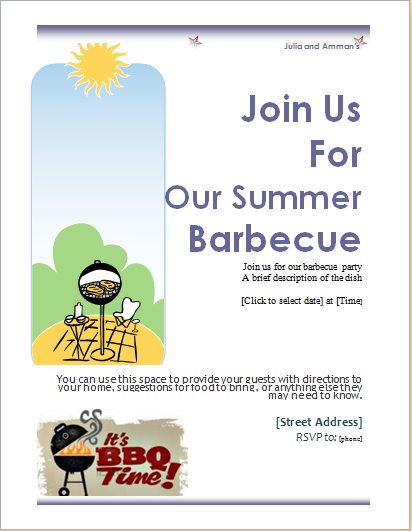 BARBECUE PARTY INVITATION CARD TEMPLATE
File Size: 23 KB
Download Word (.doc) 2007 & 2007+
File Size: 16 KB
Download OpenOffice Writer (.odt)