Re. Application for the Business Loan
Dear Maggie, I am Jack Loman and I have been working in Stereo Lines Media Agency (SLMA) since 2018 as a Social Media Marketing Manager. I joined the company as a Media Marketing Representative in SG-03 in 2017. I was laid off temporarily from my workplace due to Covid-19 implications and the business shut down for several months. In fact, a number of businesses laid off their employees permanently and temporarily.
Unfortunately, I could not escape the misfortune of being laid off and remained unemployed for consecutive five months. It cracked various things concurrently including my financial stability and its impact on my mental health.
It gave me an idea to start my own work so that I can deal with things in my way. Generically speaking, I always wanted to do my work and start a business in my sole proprietorship by making a grocery store. I want to do this business on a small scale as it will need less rush to function and operate it, with less capital investment, and minimum labor will be required. Thus, to initiate the business and give it a practical shape I need a loan of $100,000.
The loan is required solely for business operations and I want to initiate it as soon as possible. The Small Business Association (SBA) of California has approved my request of starting the business. The investigating team has also visited the store building and has approved the business initiation process. Please find all the documents of business approval by the SBA enclosed.
I have been working online and giving my services in Social Media Marketing as a freelancer. I am making enough money from there to pay back the loans and other diurnal errands. To mention this, I mean no sense of insecurity in paying for the installments.
My credit record is well enough to be considered a credible borrower. I have enclosed the credit report and the performance/reference letter by JSW Bank from where I took an interest-free loan of $8700 on 17 months installment plan that has been paid off completely. Please consider my loan application for the business loan or inform me if I need to get a third-party approval as well.
I request you to approve my business loan application. I have enclosed all the required documents for your convenience. Please respond to me at [EMAIL] call me at +1-[X].
Regards,
Jack Loman
345-P SY-City Lines
Boston, CA
USA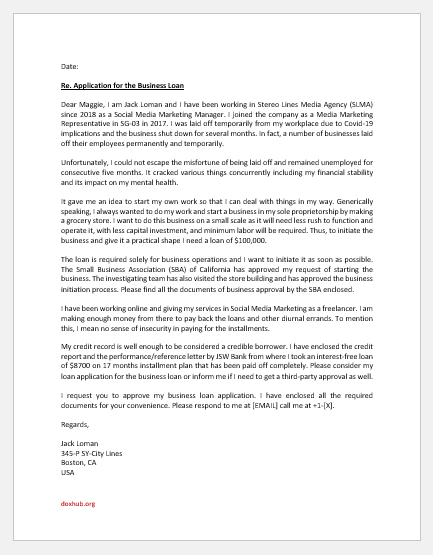 2-
Re. Business application for a loan of [X]
Dear Rick,
This letter has been penned regarding the Business loan for beginners, an initiative taken by the Bank of USA. I am writing this application for the loan as I want to start my own business in the city of New York, NY.
I have completed the documentation process, filing, and registration from the Inland Revenue of New York State. Therefore, I want to get this loan as soon as possible and with the least hindrance and delay. As you know, the start-ups of businesses are always hectic, tiresome, and mentally challenging, I want to kick off the business without any unnecessary delay.
I affirm the repayment of the loan through the installment plan with category C, i.e., 50 months plan. I have requested a loan of $400,000 with an interest rate of 10%.
I shall be available in case you need to meet me in person. I have enclosed my business profile, personal profile, LSDC Report by IRS of NY, Identification details, and previous credit record along with a report by the NFC Banking Services. I shall be grateful if you, please, approve my business loan and catalyst the process.
My contact details are following:
PH: +1-[X]
Email: [Email]
Regards
Dunster Gale
900- Civil Street NYC
NY, USA