Letter -1
It has been reported to you almost three times in the past month that you become complete deranged and do insane acts with your friends in the apartment premises because of extreme alcohol usage. Your neighbors are furious about your indecent activities and want me to act.
As you are new to this building, you probably overlooked the rental agreement and took it lightly. Therefore, I find it a need of time to report this issue personally to you so that you may take heed and become careful. I hope this notice would be enough for you to change your behavior and above-mentioned activities. Download
---
Letter -2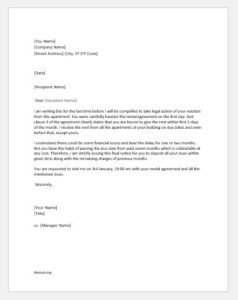 I am writing this for the last time before I will be compelled to take legal action of your eviction from this apartment. You were carefully handed the rental agreement on the first day. And clause 3 of the agreement clearly states that you are bound to give the rent within first 5 days of the month. I receive the rent from all the apartments of your building on due dates and even before that, except yours.
I understand there could be some financial issues and bear the delay for one or two months. But you have this habit of passing the due date from past seven months which is unbearable at any cost. Therefore, I am strictly issuing this final notice for you to deposit all your dues within given time along with the remaining charges of previous months.
You are requested to visit me on 3rd January, 10:00 am with your rental agreement and all the mentioned dues. Download
---
Letter -3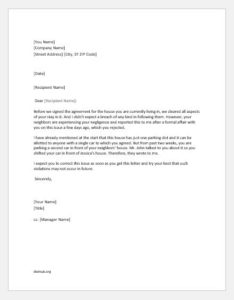 Before we signed the agreement for the house you are currently living in, we cleared all aspects of your stay in it. And I didn't expect a breach of any kind in following them. However, your neighbors are experiencing your negligence and reported this to me after a formal affair with you on this issue a few days ago, which you rejected.
I have already mentioned at the start that this house has just one parking slot and it can be allotted to anyone with a single car to which you agreed. But from past two weeks, you are parking a second car in front of your neighbors' house. Mr. John talked to you about it so you shifted your car in front of Jessica's house. Therefore, they wrote to me.
I expect you to correct this issue as soon as you get this letter and try your best that such violations may not occur in future. Download
---
Letter -4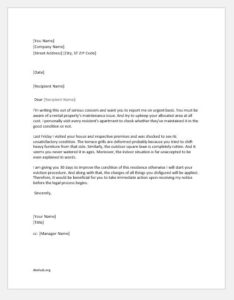 I'm writing this out of serious concern and want you to report me on urgent basis. You must be aware of a rental property's maintenance issue. And try to upkeep your allocated area at all cost. I personally visit every resident's apartment to check whether they've maintained it in the good condition or not.
Last Friday I visited your house and respective premises and was shocked to see its unsatisfactory condition. The terrace grills are deformed probably because you tried to shift heavy furniture from that side. Similarly, the outdoor square lawn is completely rotten. And it seems you never watered it in ages. Moreover, the indoor situation is far unaccepted to be even explained in words.
I am giving you 30 days to improve the condition of this residence otherwise I will start your eviction procedure. And along with that, the charges of all things you disfigured will be applied. Therefore, it would be beneficial for you to take immediate action upon receiving my notice before the legal process begins. Download