All official letters follow a format. Similarly, a resignation with a retirement letter must also be created through a formal pattern since it is an official document. There are templates available to help you write this specific letter. Online samples are also available which can provide a general idea.
In this way, you can find out about the important contents to be included. In particular, attention must be paid to the overall format, the tone of the letter, and its overall size. It should be a single-page document. The content should be to the point. Busy managers and high-level officials do not have time to go through long letters. In addition, comprehensiveness also creates a good overall impression on the reader. The basic tone should be formal and respectful.
Since it is a retirement letter, you should leave it on a good note. The letter should begin by addressing the concerned official. It should then be followed by the current date. The first sentence should inform about the main purpose and subject of the letter.
The following content can include the reasons for your retirement resignation. It is important to mention the total number of years you have worked for the organization. In addition, you should also provide a notice time period. It can be for two weeks or a month according to the rules of your company.
In the ending paragraph, you should show your gratitude to your employer. Remember to keep it brief and simple. Use the template to format your letter properly.
Sample -1
Subject: Resignation with Retirement Letter
Respected CEO,
You are requested to take this letter as advance notice of my resignation with retirement. I thought over this matter very carefully and it was really a hard decision to make. The retirement package being offered by you was attractive and I decided to avail it instantly. Please accept this resignation with a retirement letter effective from X-X-20XX.
I have taken this decision with a heavy heart and now I am filled with feelings of mixed emotions. I have worked in the position of accounts officer for 15 years. It's difficult to leave that place where you have spent a considerable part of your life. I never wanted to leave the company in this way. But then, there were a lot of dimensions of life to be discovered. To be honest, I wanted to discover all these dimensions before I get too old.  Now, with a hard decision, I want to take retirement with resignation as soon as possible.
I want to pay my gratitude for your generosity and support. I will have so many things to be recalled after I get retirement. I spent a big span of time whilst working with your company. I will remember the kind support offered by my friends and boss.
My promotion to a higher rank indicates that the company takes proper care of its employees and provides them excellent opportunities for career growth. I am very lucky to receive consistent support in this regard and it increased my productivity level in turn. Apart from promotion, I am very grateful to the management for providing me useful training by top master trainers.  
To make my transition process smooth, I will be glad to stay here to train my successor. Even after my retirement, I will be available for consultation purposes on a part-time basis. You are requested to inform me if you accept this offer.
I am waiting for your reply.
Regards,
Anderson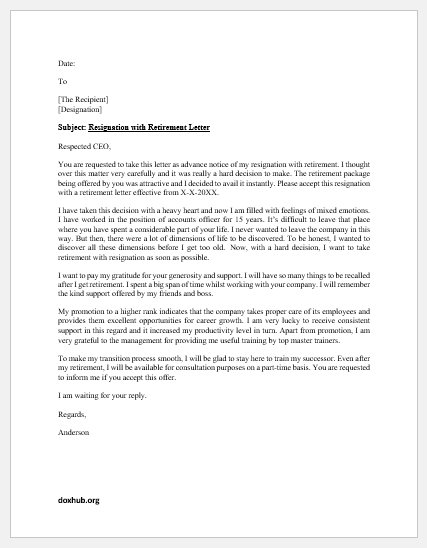 Sample -2
Respected CEO,
With mixed emotions and excitement, I hereby submit my resignation with an intention to take retirement from my current position. Now I want to leave my position as marketing manager without any delay. Apart from my profession, I have many other interests that are yet to be explored. Although it seems sudden, honestly, I have been planning to inform you about my resignation with retirement since the time you announced the golden shake hand package. After making such a difficult decision in my life, I am very excited about my future.
Despite my wish to take retirement, I am still grateful to you for all opportunities you provided me to excel in my career growth. The management of this company consistently provided me with the substantial support I have always been looking for. It all contributed to a tremendous increase in my productivity.
I want to leave as soon as possible, if you want me to stay here for some time to train my successor, I will be honored. If you ask me, I recommend my assistant to assume my charge as marketing manager.
I am waiting for your response with the hope to accept my resignation with retirement.
Regards,
Anderson