As the name implies, a company introduction letter is used to introduce a business service or product to a potential client. This is a formal type of letter. It begins by introducing the reader to the basic details about a company. This includes information about when the company was established. It also speaks about the reputation of the brand in the local market or worldwide.
Next, the letter stresses the facts which can convince a client to avail of the company's services. However, these details should be described briefly. Comprehensive content can help in keeping the readers engaged. On the other hand, mundane details may end up making the client lose interest.
In the closing paragraph, the company offers to serve the client. The reader should feel at ease about contacting the concerned departments for the relevant services. The entire content of the letter should be well-organized into paragraphs. The overall formatting should be neat.
A company introduction letter template can be used to make this task easy. You can add your customized content to a pre-formatted layout. This helps in saving time. In addition, you can write a perfect letter through the template. It will carry a formal tone according to the requirement. Any modifications can be made to write a company introduction letter for different clients. Different services can be offered according to the needs of the main audience.
The template can be used to make these specific modifications at any time. You will then have the perfect company introduction letter for your potential clients.
1-
Subject: Company Introduction Letter
Dear Johnson,
Let me introduce my company [X] Pvt. Ltd. to you. We have been in the business of marketing for the last five years.
We established our company with a great mission of doing research-based market surveys on behalf of our clients and providing unique ideas for business expansion. Now we have become a popular company with great customer satisfaction. Quality is our hallmark and we never compromise on it. We provide great services to our customers as compared to our competitors in the market. Our aim is to keep the customer happy and we are doing it by providing them our good quality services at low prices.
We are proud to have a customer-friendly staff. If you keep in constant touch with our company's staff, they will guide you about the latest market trend. If you have any business-related queries or requirements, you can feel free to contact us. We are ready to help you 24/7 literally. Apart from our above-mentioned service, we are also specialized in designing top-quality flyers and flexes for your business.
We have hired top-class graphic designers for this purpose. They will help expand your business by designing quality flyers as per your business demands. Keeping in view our customers' demand, we have a team of social media experts as well. They publish well-designed flyers on different social media platforms. With the integrated efforts of our team, we help expand your business according to current market trends.
I am looking forward to establishing long-term business relations with your company. You are requested to use our services for your company and refer it to your friends. I would also like to invite you to visit my company at any time convenient to you. My assistant will contact you for further discussion in this regard.
I am waiting for your positive response.
Regards,
Julia Anderson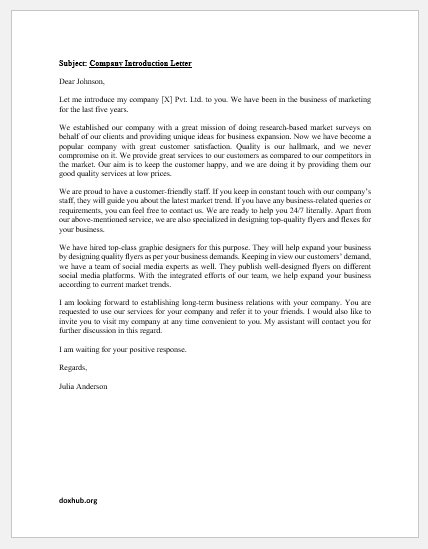 2-
Subject: Company Introduction Letter
Dear Johnson,
I would like to introduce myself and my company to you. I am Managing Director of my newly established IT support company. Its head office is located at V-61, Creek Rd Niles, Michigan. The company was established in 2019 and since then we are dedicated to providing top-quality IT services to our clients. Currently, we are offering laptop/computer repairing, IT support, networking, installation of windows/software, and maintenance services of various kinds.
I have come to know that you were searching for a reliable IT support company for your official matters. You can trust us in this regard. Our rates are lowest as compared to the rest of the market because we are aiming to provide top quality service to our clients at reasonable prices. On your visit to our company, you will find friendly staff who will give you proper guidance.
We take all our clients equally with dedication and professionalism. We are there to help you with whatever your networking, maintenance, or software problems are. We provide urgent services as well. If you are unable to visit our company office, you can call us and our representative will visit your office. Apart from this unique service, we have also designed our customized packages to suit all your demands. The aim of doing all this is to provide you with quality consultancy in IT services.
Through our IT consultancy services, we aim to increase our client's business productivity. I am enclosing more details in this letter about my company. Please feel free to contact us if you have any question regarding working of our company or any other kind of information.
Regards,
Julia Anderson