Christmas with students:
Shopping for Christmas is something everyone looks forward to. Mainly, because there is a mysterious excitement associated with giving and receiving Christmas presents. If you are a teacher, keep your dear students in your priority list when you are shopping for your loved ones. The traditional way of expressing love was to write letters to each other.
Well, this trend is back again, so you can make the most of it. Words are the powerful weapon to invade the hearts of your little audience. Write anonymous letters and be a secret Santa for your students.
How to write Secret Santa classroom letter?
We know you love your students and you wish to know them better. Christmas provides you with a great chance to interact with them in the form of letters.
Arrange this entertaining activity and be amongst their favorites. However, there are a few steps you need to follow in order to write an interesting letter for your students. They are:
The first step is to choose a perfect layout that can complement your overall theme. Students usually prefer things that have a glimpse of their fantasies.
The next step is to decide a color that goes well with your chosen design. You don't necessarily have to keep it one-colored; students are fond of exploring different shades of colors.
Now that you have a complete outlook in terms of its appearance, it is time to add the information. Make sure you don't miss anything out since kids are quite choosy when it comes to like a gift. Through your questions, go in the depth of their heart and figure out what they really want. Keep it short because you don't want your students to get bored! Do add some wishes at the end.
Are you wondering what kind of questions should you be keeping in your letter? Below are few questions that can help you out:
Which cartoons do they like the best?
What is their favorite candy?
What is their favorite color?
What makes them happy?
What kind of toys they can't stop thinking about?
Your letters will make them excited, and the gifts will make them shriek with joy!
Why secret Santa classroom letters should be your choice?
A simple and straightforward 'Happy Christmas, Students' doesn't do justice to the grand essence of the Christmas festival celebrated worldwide. Secret Santa letters can refine your old-fashioned ways of wishing little kids. Moreover, there are following reasons to opt for these kind gestures:
This activity will lift the studious spirit of the classroom, igniting it with Christmas bells!
Students will feel connected to you which can make your bond stronger with them.
With your letters, you can reflect the importance of togetherness and spreading happiness.
With everything in mind, you can definitely slay the upcoming Christmas. It's time to transform your classroom through trending ideas and unique gifts. The world is happy when the children are happy!
Sample letter -1
Dear Susy,
When I got your name for the Secret Santa gift exchange, I got happy as I already know you well to make the best gift choice. We have been so close to each other the entire term and have become very good friends.
You are such a kind-hearted person who is always ready to help others. I have observed your helpful and friendly nature which is one of the reasons I got close to you. You deserve the best gift this Christmas!
I am so excited to see your reaction when you open my gift. Keep guessing who your Secret Santa is but I am sure that you cannot guess at least until you open my gift. Please always stay the same.
Merry Christmas!
Love,
Your Secret Santa.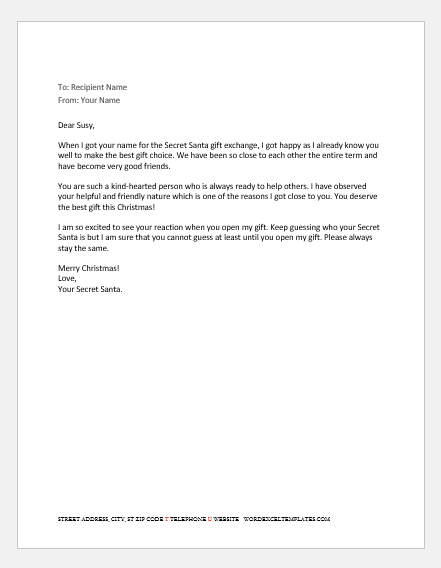 Sample letter -2
Dear Santa,
I promised you last year that I will show you extremely good marks and make my teachers happy with exceptional behavior. I have fulfilled my promise. You can even ask my teachers who have given me a reward of 'exceptional student of the year'.
Last year, nobody was happy with me. My parents, teachers and you all complained about my irresponsible behavior. See, I have changed that all and now everybody is happy with me. I hope you are happy with me as well and give me my desired gift.
I have a list of things which are currently my favorites. You can give me anything from this:
Cadburys chocolate box (the big size)
Play Station
Digital watch
Merry Christmas! I am so excited for my gift!
Love,
Ben Will.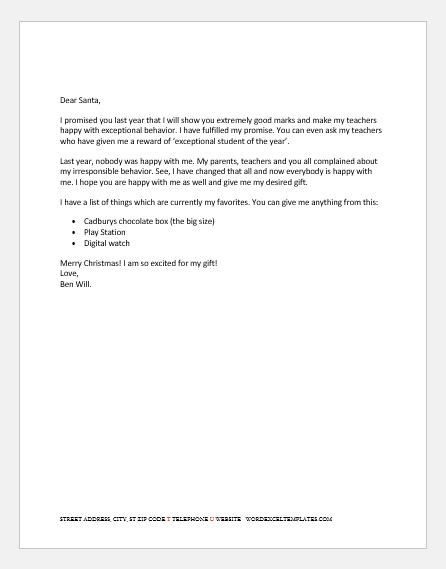 Sample letter -3
Dear Emily,
I am so excited that I am still a mystery to you and I cannot wait for you to open my gift to know who your Secret Santa is. I am sure you would be surprised to know my name and would not believe yourself for not guessing it.
I got your name and instantly knew what I have to gift you. You are an amazing person and friend. You have helped me throughout this year with my work and not just me but everyone as well. You never boost about your exceptional resultsrather you always guide others. I know you deserve the best.
My gift will certainly make you happy but I will remain a mystery to you till the last day of this gift exchange. Keep guessing. Merry Christmas!
Love,
Your Secret Santa.