1- Getting emotional/ flying off the handle
This is an official warning against your unprofessional behavior in the office. Losing your temper with colleagues is unacceptable. The management has received complaints about you on several occasions. You are strictly advised to control your temper and behave professionally at work. Any future complaint will result in disciplinary action against you.
Do not resort to any arguments with your co-workers in the future. You may turn to your supervisor or report to the HR department in case you face any issues with your team members or other colleagues.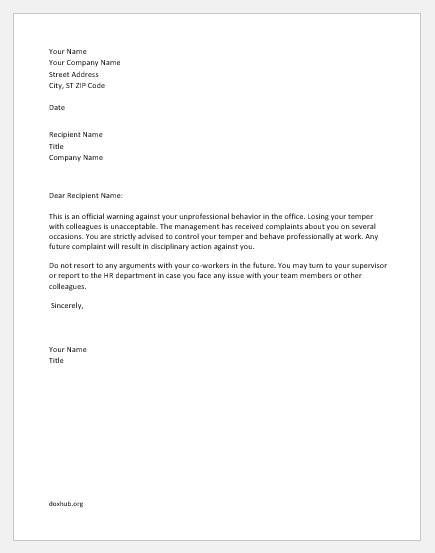 2- Letting personal relations influence business decisions
I am writing this letter to warn you about your unprofessional behavior regarding business decisions.
The management entrusted you with the task of hiring a vendor to supply us with office stationery. The task was assigned to you on the 5th of January. You were directed to choose a vendor that offers the cheapest rates. However, it has been reported to me that the selected vendor is your brother-in-law. Upon research, it has been found that his rates are 5% higher than the average supplier.
The management is very disappointed with you. Letting personal relations affect your business decisions is highly discouraged in our company policy. You have exhibited disloyalty to the company by ignoring our financial expenditure through the benefit it would have provided to your brother-in-law.
You are strictly advised to refrain from exhibiting such behavior in the future. You may have to face termination if it happens next time.
For further discussion regarding the matter, you may contact Mr. XYZ from the HR department.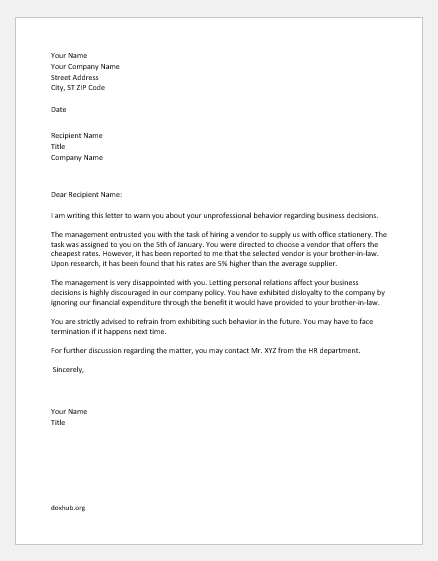 3- Dressing sexy or sloppy
This is an official warning against your inappropriate dress at the workplace. The management has observed that you have been ignoring the company's policy regarding the official dress code. You are required to go through the policy again and start dressing up accordingly.
You show up at the office in a very casual manner. Your clothes are often unironed and sloppy. This careless attitude is unacceptable. The behavior, body language, and dress of an employee contribute to the overall working environment. You must, therefore, strictly adhere to the official dress code in order to maintain a professional atmosphere in the office.
It is strictly advised that you refrain from wearing the following articles of clothing to work in the future:
all types of denim jeans;
round neck and V-neck T-shirts;
shirts with inappropriate mottos;
denim jackets;
sweat suits;
shorts;
lounging trousers;
slippers, trainers, and sneakers.
Go through section [X] of the company policy and refer to the approved dress code for employees. You are expected to dress up appropriately from tomorrow onwards. Ignoring this warning may result in strict action being taken against you.
Contact HR for any queries.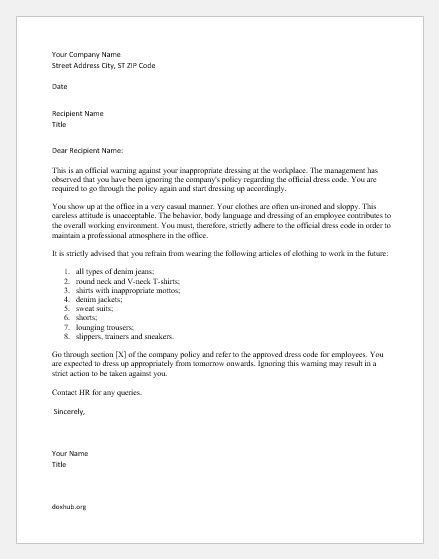 4- Lack of hygiene
HR has received several complaints regarding your personal hygiene. The main issues that have been reported to us include an unpleasant body odor, bad breath, and soiled clothes. Your co-workers are repulsed by your lack of hygiene and your team members do not wish to work with you.
Not only is this an embarrassing situation for you, but it is also against the company's rules to be careless towards one's personal hygiene. You must, therefore, pay more attention to your self-grooming.
We expect you to take this warning seriously. Future carelessness on your part regarding this issue may result in your demotion and eventual termination.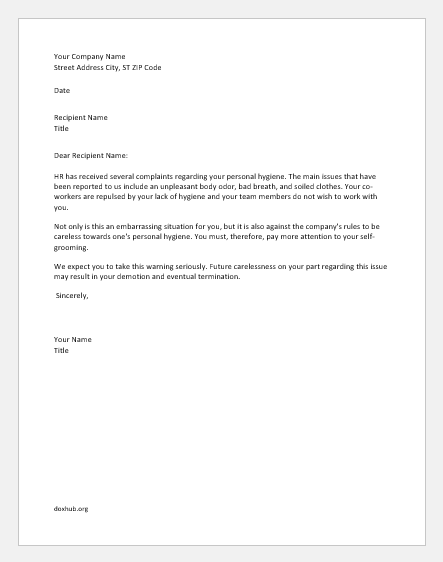 5-Flirting
I am writing in response to several complaints received about you by your female colleagues. It has been reported that you frequently flirt and exhibit extremely unprofessional behavior. You are strictly advised to stop flirting otherwise immediate action will be taken against you.
We are placing you under strict observation for now. You must behave appropriately with all your female co-workers.
As you already know, the company has a zero-tolerance policy against such behavior. Therefore, a single complaint against you in the future will result in your termination.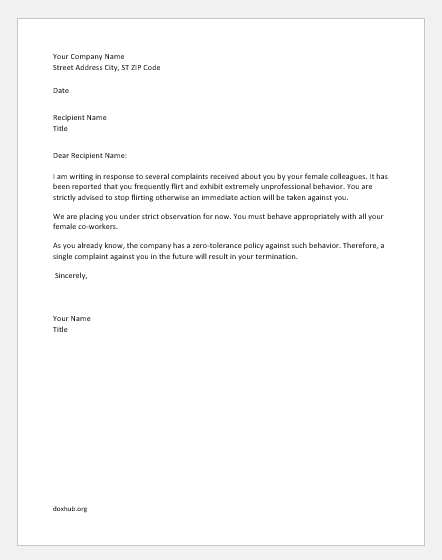 6- Blaming
This is an official warning in response to the complaints made by your team members regarding your unprofessional attitude towards work. You habitually blame others for your own shortcomings and failures at work. This is a highly undesirable quality and may prove to be damaging to your future career in any organization.
It has been reported to us that you do not take responsibility for the tasks assigned to you and you never admit your mistakes. Instead, you resort to putting the blame for your poor work performance on your team members. As reported by your team manager, you also constantly blame the office administration for your own incapability to make any substantial accomplishments.
The management wishes to inform you that the organization provides the best working environment for all employees. Many of our employees have been making remarkable achievements for the company working with the same resources and office infrastructure as you are. You must stop playing the blame game. If you wish to continue working in this organization, you must own up to your mistakes and work harder to overcome your shortcomings.
Take this warning seriously and improve your attitude towards work. The company will have no trouble replacing you if you continue to resort to blame.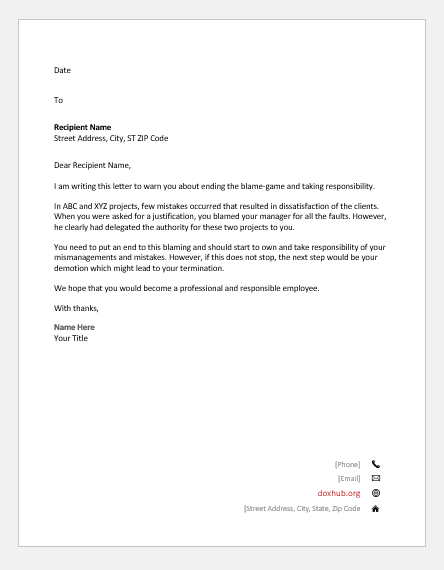 7-Shirking
This warning letter is being issued to you as we have received a negative report about your work attitude from your supervisor. You shirk from taking responsibility and avoid new projects. You must change this irresponsible and careless approach toward work if you do not wish to face termination.
At the time of your appointment, you claimed that your welcome challenges. However, you haven't been able to prove your claim up till now. You should also know that the company has the right to fire an employee who refuses to take assignments and projects.
It is expected that you will exhibit more keenness toward work from now onwards. In case you face a genuine issue, you may seek help from your supervisor.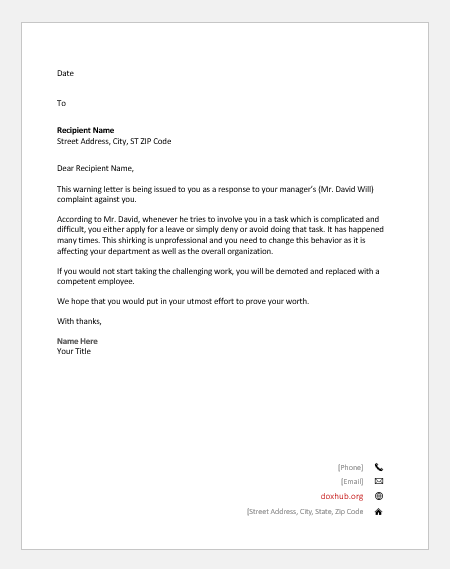 8-Making Excuses
A negative performance report has been submitted to you by your supervisor. According to the report, you always make excuses for failing to meet deadlines. You frequently blame your personal issues for your overall poor performance. This behavior may result in your termination.
To be a part of this prestigious organization, you must exhibit diligence and efficiency. Make a hard effort to achieve your work goals instead of making excuses. Do not try to cover your incapability and lack of effort through lame excuses.
We hope that is a warning letter word that makes you work harder from now onwards. The management is always available for any kind of assistance you need. Any more missed deadlines may result in strict action being taken against you.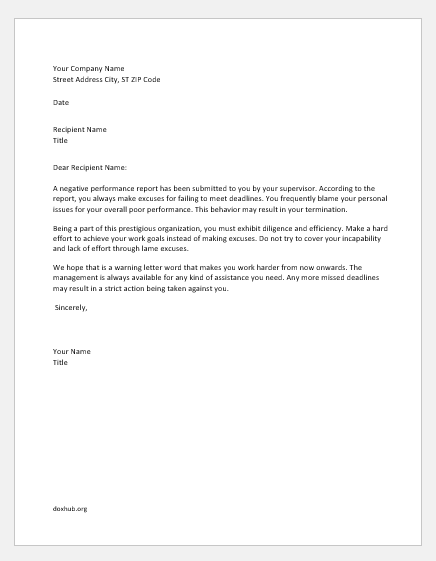 9-Not keeping your word/ or disrespecting agreements and contracts
This is an official warning for violating your work contract. This is the second time you have ignored our work agreement since the time of your appointment two months ago.
On 15th January, you uploaded our design samples on your personal Facebook account without the company's permission. This was the first time you violated our contract. After a verbal warning, you gave us your word that it would not happen again. However, this time, our entire catalog has been found on your Instagram page. One of your colleagues has reported that you uploaded it two days ago. This is a blatant breach of our contract.
This is your first and final written warning. If you continue to ignore the binding rules of our agreement, you will be fired immediately.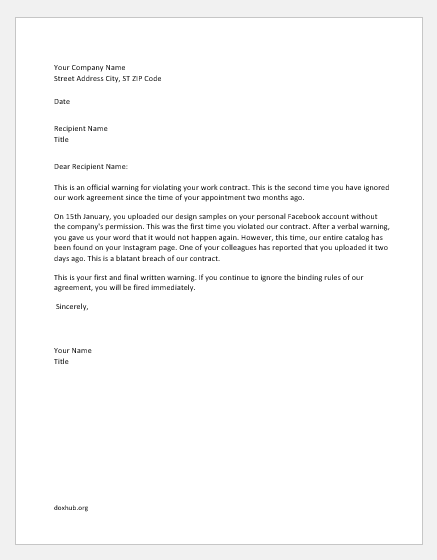 10-Showing disrespect to anyone
A customer complaint has been filed against you. On Friday, 23rd July, you have been reported to have misbehaved with one of our walk-in customers. Other sales representatives present at that time have also testified about the incident.
You must write an apology letter to the client right away. Be very careful while interacting with the customers in the future and treat them with the utmost respect. Another complaint about your behavior will result in your immediate suspension or termination.