A delivery note accompanies shipment goods. It contains details about the contents of a shipped package. This is important for security reasons as well as customs checking. In addition, it also provides information to the receiver. A bill may also be attached. The note also enlists items which were ordered but could not be included in the package. The reason for the unavailability of those goods is mentioned as well. Although the general pattern is the same, such notes differ from one package to another. The variation is due to the different contents of each parcel.
A delivery note template can be used to create customized notes. Each note can be formed according to specific requirements. It can be brief or detailed. Apart from the information about the contents of the package, the note also carries other important pieces of information. This includes the order number and the delivery date. In addition, it may also contain an invoice for the receiver. The note needs to be signed by the receiver upon delivery of the goods.
A delivery note sample can give you an idea about its general format. Such samples can easily be found on the internet. On the other hand, a pre-formatted delivery note template can offer you a prepared layout. Since it is customizable, you can make modifications according to your specific requirements. Such a template is very useful as it can help you create multiple delivery notes for various packages. Each note can then be printed and used accordingly.
Preview & Details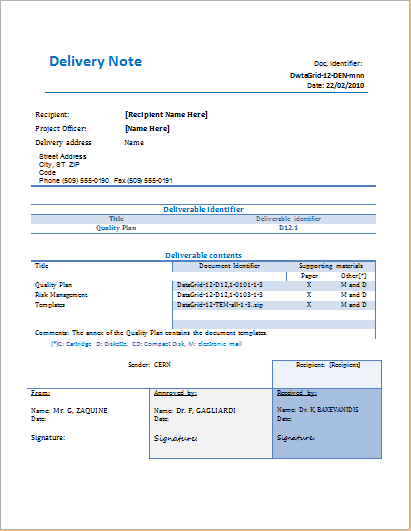 Delivery Note Template
File Size: 44 KB mobile [Android+iOS] & iPad
Download Word (.doc) 2007 & 2007+