BILLING STATEMENTS
If one were to ask what is the most important thing for various customers and for various organizations, one would easily say the transaction that these organization conduct with their clients. These transactions are what get these companies more business and help them make an identity for themselves. In order to be a better business entity, these organizations and these companies need to have some kind of proof of transaction which is why they need to make use of a billing statement invoice.
This billing statement invoice is a type of invoice which is a commercial document which proves the transaction between an organization or business and their client or customer.
Because businesses and companies are conducting these transactions on a daily basis, they need to have a billing statement invoice template which they can make use on an everyday basis. This billing invoice needs to have some important things mentioned such as the name of the organization or the business, the details of the product (such as the quantity, the product code, the amount that it costs and etc.), details about the client (who bought it and etc.), the price of the product along with the invoice number and any tax details that are to be mentioned. These are the most important aspects of the invoice and should be mentioned in clear. Enough space should be left in the template so that filling of these details is easy and can be done in a clear and concise manner.
PREVIEW & DETAILS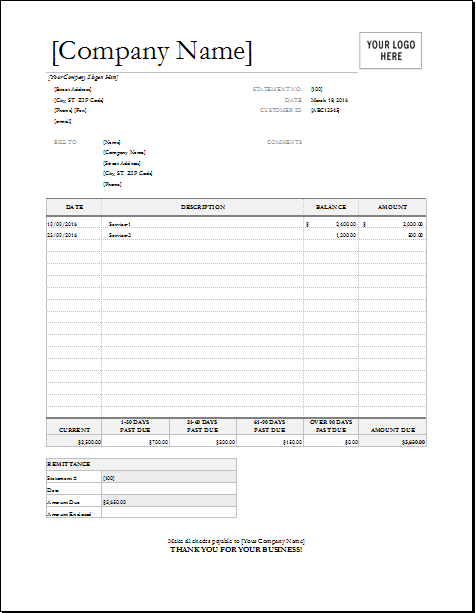 BILLING STATEMENT INVOICE TEMPLATE
File Size: 113 KB mobile [Android+iOS] & iPad
Download Word (.doc) 2007 & 2007+
File Size: 102 KB
Download OpenOffice Calc (.ods)