1- For poor service
I have been availing XYZ internet services for the past 5 years. My membership number is [X]. Despite being a loyal customer for half a decade, I failed to received quality service from your support team when an issue arose last week.
On 7th June, I filed a complaint regarding slow connection speed. Two days later, my internet connection was completely lost. I filed another complaint but to no avail. A week later, my issue has still not been resolved and your support team has been of no help. I am appalled at the incompetence of the technical staff at XYZ.
I demand an immediate solution to my issue. In case you failed to provide quality service, I am afraid I would have to cancel my membership.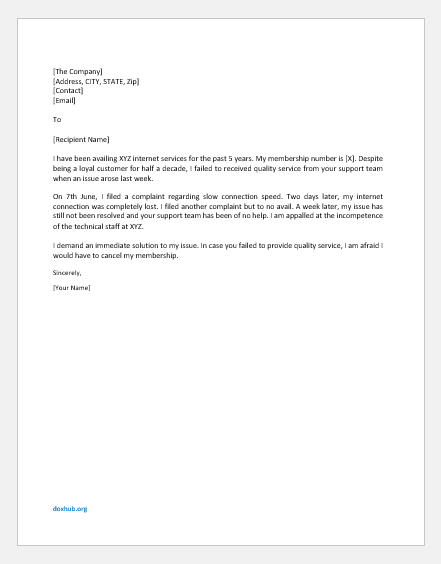 2- For not responding
On 15th May, I placed an order on your website. The order number is [X]. It has been 2 weeks, but I have still not received my order. I have been trying to call the customer care department, but my calls are not being answered.
Kindly look into the matter as soon as possible. Your customer care team is completely unresponsive. I did not expect this from a prestigious company like ABC.
I hope to receive a response from you soon.
3- For poor product
I made a purchase from your e-store last week. I was really excited about buying a dress from your new Festive Collection. However, my excitement turned into complete disappointment upon receiving my order today due to the extremely poor quality of the dress.
I expected such a high-priced product to be of fine quality. However, the fabric is rather flimsy while the stitching job has been done quite poorly. There are frayed threads hanging around the embroidered border. Overall, there is no elegance in the dress owing to these flaws.
I demand a full refund for my money including the shipment cost. I shall be returning the dress to you through XYZ couriers. I expected the return shipping charges to be covered by your company.
I await your response and hope for good post-sale service.
4- For sending damaged goods
I am a frequent customer at ABC. I have been buying cosmetic products from you for the past 2 years for my beauty salon. My recent shopping experience with you, however, has not been pleasant. The consignment I received today from you contains many damaged products. 
The damage must have occurred during shipping due to poor packing. There was no bubble wrap to prevent the damage. As a result, there are several broken glass bottles. The liquid that leaked from these bottles has created a mess and ruined most of the other products in the box.
Kindly refund me for the mentioned broken products. I am attaching a picture of the damaged goods. I am also enclosing my order details along with the invoice and my account information for the refund.
I await your response along with my compensation.
5- To refund money
I purchased a diet supplement from your website 3 months ago. My order number was [X]. I have not found the supplement to be effective in the least. I, therefore, demand a refund.
I have used the product according to the directions provided on your website. The required 3 months duration has been fulfilled without any change in my weight. The supplement is merely a waste of money.
As per your refund policy, unsatisfied customers receive a 70% refund. Since I purchased a supply for 3 months, my refund amount should be $150.
You will find enclosed the details of my bank account. Kindly contact me on the provided number for further discussion.
6- For not cleaning cheque
With reference to the order number [X], I received the requested refund in the form of a cheque from your company yesterday. However, the bank has not cleared the cheque owing to some account discrepancies at your end.
You must look into the matter immediately. In order to avoid further delays, I demand the required refund to be made in the form of an online transfer instead.
I await your response.
7- For ATM problem
I am writing to report a faulty ATM machine installed at XYZ. The machine gives an error when the user punches in the pin code. I have tried using two different cards, but the issue persists.
Kindly send your team to repair the machine and fix the problem.
8- For deduction
This is to bring your attention to an issue I have been facing for the last 2 months with our Accounts department. There have been random deductions from my salary during the said time period. 
The Accounts department has failed to provide me with an explanation for these deductions. I have been asked to forward the matter to HR. I, therefore, request you to assist me with this issue.
I would really appreciate it if the matter can be resolved soon.
9- For the wrong transaction
It is to state that the transaction performed on 12th August by your company, XYZ for the requested supply of office stationery is wrong. The notification we received today from you regarding the said transaction states the wrong account number and title.
It is likely that you have confused our transaction with that of another seller. Kindly look into the matter as soon as possible.
We await the right transaction to be made before we dispatch your supplies.
10- For negligence
In view of the unpleasant incident that took place on Friday, 20th June, the management expresses its utter dismay over your negligence.
As our company's contractor, ensuring safety protocols at the construction site is your job. However, these protocols were overlooked, causing several laborers to be injured on Friday. Some of the company's equipment has also been damaged.
An urgent meeting has been arranged with our senior managers and the CEO. Your company's representation is mandatory. You will be informed shortly about the time and venue for the meeting.
Till then, all further work on the site has been suspended.