1-
Re. Expression of Interest in Potomac Eagle Project

Dear Poe,
With reference to the above-cited subject, I hereby intend to show my interest in the bidding you displayed on 22nd November 20XX. As our company has expertise in this line of work and has also achieved many similar projects successfully, I present my team for the work. Through this letter, I officially announce the interest of my company and taking up this project. We are willing to finance this project up to $400000.
My team also attended the JIM-CM2020 Conference where a representative of your company introduced the project and also submitted that the company is open for proposals. In this prospect, our team members have calculated and reviewed the project. The review is enclosed in this letter from appendix 1 to appendix 4 where all the calculations and methodology of the working have been listed and clearly mentioned. From appendix 5 to appendix 7, we have attached some documents useful for working safely and to circumvent any kind of misunderstanding. In the wake of the above-mentioned discussion, I propose you proceed further considering our interest.
Please notify us of any further inquiries or reservations at any point. You can avail of our assistance and services at [email] or call us at [X].
Thank you.
Regards
Gold M Sartre
Potomac Drug Dotty
California, USA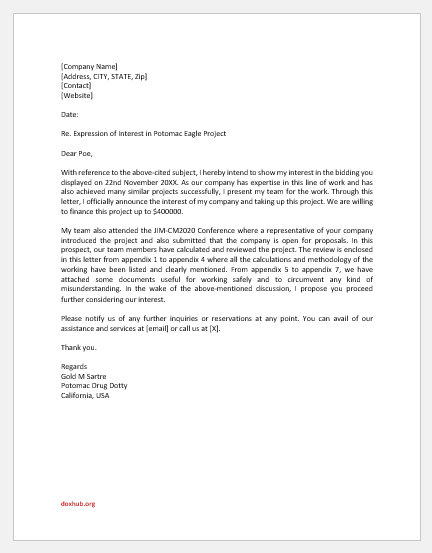 2-
Re. Interest in Bidding Submitted on 23-11-20XX
Dear Ellen,
I am writing this letter with reference to the bidding submitted on 23rd November 2020. I intend to express the interest of our company in the bidding you submitted previously on the project of water reservoirs. Our team reviewed the proposal and has gone through all the points and attached appendixes. They took a very careful calculative analysis of the project initiatives including finance, project capital, stocks, and profit. We are pleased to extend this draft to expressing the interest we have in the bidding proposed by you.
After careful analysis, we have decided to take up this project and assist you in accomplishing it on the mentioned deadline. This project has a two-end beneficial dimension and can prove itself to be very conducive for both the firms. We have chosen to invest up to $100000 in the project in managing the water scarcity. Please note that this letter is not a commitment note or has no contractual bounding. We are looking forward to the earliest meeting to issue a final commitment for this transaction and binding a contract.
Please inform us about your earliest availability so that a meeting can be arranged to discuss the points do not clear in the presentation. You can write to us at [email] or call us at [X].
Thank you
Regards
James Roger
Senior HR Manager,
Steve Nicole Groups
California, USA