A pharmacist's resignation letter is a document drafted by a Pharmacist in which he writes to his manager, CEO, or boss about his decision of quitting the job. Like any other job, a Pharmacist may have opportunities of working at other places for monetary benefits or owning for several reasons. A resignation letter should be a formal letter with good use of words. It is to be mindful that you write the letter in such a way that makes sure your boss feels that you have unavoidable circumstances to take the decision.
Sample Letter -1
It has been an absolute pleasure for me to work for (name of the company) for (number of years). I joined this company when I was an amateur but working with such a great team has immensely helped me in improving my skills and boosting my confidence. Unfortunately, this is where we part ways. Due to some personal commitments, I have to relocate.
Despite my attempt to find a good living space in the near neighborhood, sadly I regret to inform you that I was unsuccessful. It would be a daunting task for me to travel daily from (name of the area) to (name of the place) and this would have a drastic effect on my overall work performance. Hence, I have decided to resign from my position of pharmacist at (name of the company). Please consider this letter to be the official 4-week notice of resignation according to the company policy. I expect the reference letter to be the reflection of my performance in (name of the company). This would assist me in finding a new job (name of the area).
I am taking a lot of experience and some good memories with me. I feel truly blessed to be given such an opportunity to polish my talent and work under the supervision of such good mentors. I wish the very best of luck to all the staff.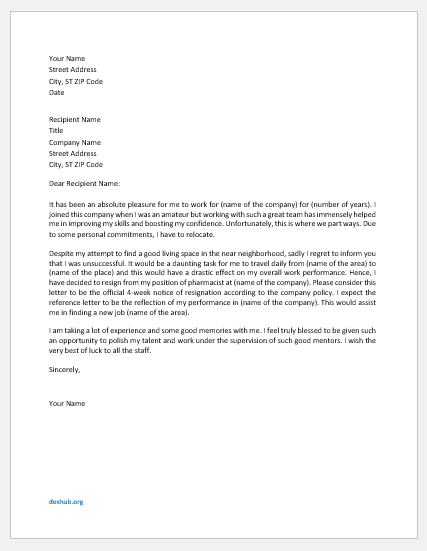 Sample Letter -2
I have been experiencing pain and discomfort for a little while now. Recently I got a complete checkup of myself and unfortunately, I have been diagnosed to have (state the diagnosis) and the doctors have advised me to take complete bed rest for (state time duration). Although I can perform some part of my duties from home, however, to be honest, I think I would not be able to do justice with my post and the duties I have been entrusted with. Therefore, I with a very heavy heart would like to announce through this letter that I have decided to resign from my post of the pharmacist in (name of the company). I request the higher authorities to accept my resignation.
I would also like to apologize to the company for any inconvenience that my sudden resignation would cause to the firm. Please let me know if there is anything else that I can do to ease this transition. I wish good luck to both the company and the employees of the company. It has been a pleasure working with you. The company (name of the company) has helped me in growing into a better, stronger, and knowledgeable person. I would always cherish the time I spent at (name of the company).
If any time later the company needs my assistance in any matter, I would be happy to help. I would be available on the following contact details (mention phone number, mailing address, and email address).