A promotion request letter determines an employee's need to get a step ahead in his professional ground, stating his current job role, experience, technical skills, level of expertise, and work performance at the designated post. Many factors are observed while deciding for promotion by higher authorities.
Positive progress in a job is an essential component of an individual's life as well as equally serves the company with the right workforce. Timely upgrade of staff grades wins the trust of employees and helps the senior management in eliminating the risk of brain drain and loss of their long, past trained human resource.
The budget spent on the company's staff can only be beneficial when it is invested in the right orientation, that particularly focuses on the employees' advancement in their careers hence, in the overall company's growth. Motivating employees through promotion boost their energy level and prepare them for future challenges.
Here we have got some impressive samples for you to persuade your boss with valid and logical reasoning for accepting your appeal. It's high time to grab the brass ring and kick off your desire for promotion through our moving samples.
Letter -1
Dear Sir/Madam
I hope this letter finds you in the best of health. I am writing this letter to ask you to ponder on my career progression. I have been performing well at my assigned designation, impressing my teammates through my studious nature that too with full of energy and commitment since past [ Number of years] at [company name].
On the other hand, I am also required to conduct surveys and meetings, with the team as well as the client for project assessments. The workload has extended significantly, and I believe that it's my devotion that has led me to win the trust of my colleagues in counting on me to get the quality job done with perfection yet on time.
Inopportunely, I am still executing the role of senior software engineer, though my position infers that I have been diligently carrying out all the responsibilities of a project manager without all the allied incentives.
I have always been in your good books and other staff members which has likely encouraged me to move beyond my potential in my job. I would be highly grateful if you consider me a good fit for promotion to an authoritative yet more promising position.
I will be looking forward to hearing from you soon.
Regards,
[Your name]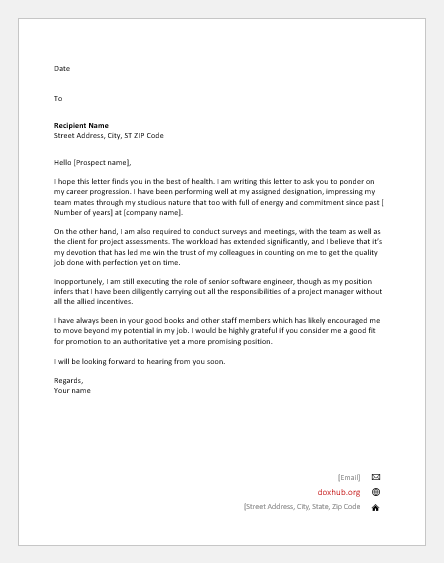 Letter -2
Dear Sir/Madam,
It is to bring to your notice that I have been serving this [company] for [number of years] as the assistant manager of sales, exhibited exceptional performance in attracting clients and promoting business through my effective interpersonal skills.
I have always toiled hard for achieving large profits for the firm and my earnest and passionate work nature is shown by my last year's winner of the best employee award.
My sincerity and diligence are what make me different from other employees. Innovation is in my genes and that has always helped me in closing deals with clients and impressing them by making them understand my idea of solving tedious tasks. Furthermore, I am also done with my MBA degree in Digital Marketing which is a hot and demanding field in every corporate sector.
With reference to my degree completion, experience, and know-how of work nature, it is requested to increase my salary and grant me the talented role of Manager Sales with all the desired perks. I promise that I will serve as the righteous choice for your organization from every outlook and I will never let you down with your usual admirable faith in my capabilities.
Looking forward to a constructive response from your side.
Thanking you in anticipation.
Regards,
[Your Name]