Rental Agreements
Commerce in property is an accumulative business in today's world. Owning a piece of land always leads to a source of income. Some people prefer to rent out a portion or an area of their land in order to generate revenue. For such process, a rental agreement form is to be compiled and it must comprise of a few things mentioned below.
The most important thing that a form have is the name of landlord and the name of the tenant. Besides this, the address of the property to be rented is mentioned on the form clearly and in full detail. The details may include various information like city, area, street number etc. another important feature of such an agreement is the amount of rent to be paid on the account of the property that is being used. The Agreement form must also include that for how long the property is for lease. If in an agreement the duration isn't specified, then the duration of the lease is assumed to be one year.
In addition, to the above mentioned significant sockets, there are a few aspects that can be included just to facilitate both parties in future. These are minor details like whose responsibility is to pay utility bills, the time when rent is to be paid like either it be monthly, quarterly or annual basis. Who is authorized to repair any damage caused to property? The form must have a section specifying the amount of deposit that is to be paid in advance, and in what circumstance the amount can be deducted.
Preview & Details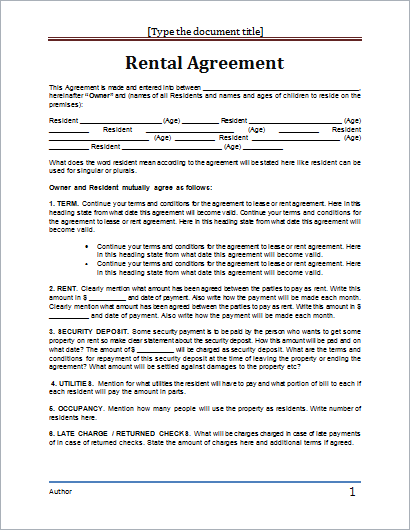 Rental Agreement Form Template
File Size: 44 KB mobile [Android+iOS] & iPad
Download Word (.doc) 2007 & 2007+
File Size: 25 KB
Download OpenOffice Writer (.odt)