Guarantee FORMS
A personal guarantee form is a kind of agreement in which a person holds himself responsible for his own or someone else's debts or obligations. In this form the lender claims that in case of any default from borrower's side, the guarantor will be answerable or the assets of the guarantor will be claimed. The guarantor can be any person or any organization with a well-defined credit history. The personal guarantee form can be regarded as a signed bank cheque without any mentioned date. The form can be very helpful in making daily transactions.
This form is used by the people when they need to borrow a specific amount of money from any organization or an individual but are unable to take because of no credit history. If an organization fails to pay the borrowed money, then the guarantor who is particularly the managers or other stack holders of the company will have to be answerable. This is also used by the parents when they want to allow their child who has no credit history to borrow the money.
The guarantor of the money will be the secondary party to whom the creditor can ask for money if the borrower party is not able to pay. The form should be used with great care. All the details and terms should be mentioned in the form in clear words. Giving personal guarantee can be a complex and difficult task to perform. One should be careful while speaking on behalf of someone else.
Preview & Details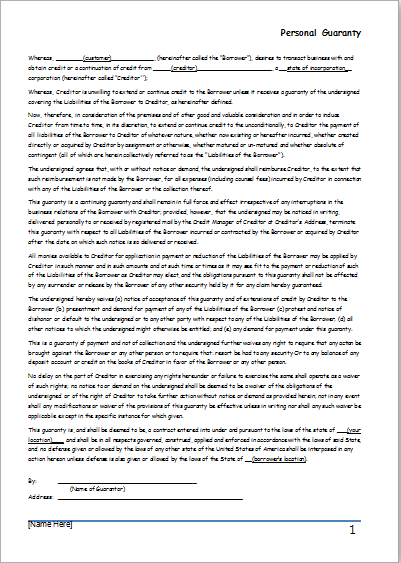 Personal Guarantee Form Template
File Size: 35 KB mobile [Android+iOS] & iPad
Download Word (.doc) 2007 & 2007+
File Size: 28 KB
Download OpenOffice Writer (.odt)