1-
Re. Thanking for the Opportunity Provided to Work and Get First-Hand Experience with ABC Project with the Collaboration of XYZ Group of Companies
Dear Sir, I am [NAME], the [DESIGNATION] in your company. As I have been working in this company since 20XX, I always had an immense desire to work in project development and management and get experience working on executive projects. Hence, it was not possible for me to get such bug projects single-handedly, therefore, my dream of getting an executive project could not translate into reality due to lack of experience and cadre but it happened on [DATE] for which I have been writing to pay my huge thanks for.
Sir, I joined the company in 20XX and had a lot of desires in my mind to work hard and get my desired position in the company. I always loved to work in the forte of project management and development rather than in General Administration and GSD in which I was recruited.
To work on project management, a lot of experience and a credible background in handling diverse projects is needed which I lacked at first. But later, I worked on my weaknesses and harness the wind in my favor through hard work and dedication. I got an online course in project management and hence got eligible to get the chance to get into project development.
On [DATE], finally, I was given the project of ABC contract which is a joint venture of [COMPANY-I] and [COMPANY-II]. I pay huge thanks to you sir as it was not possible without your kind consideration, constant support, and approval. I am greatly thankful to you for providing me with this opportunity.
Best Regards
[Name]
[Company]
[Date]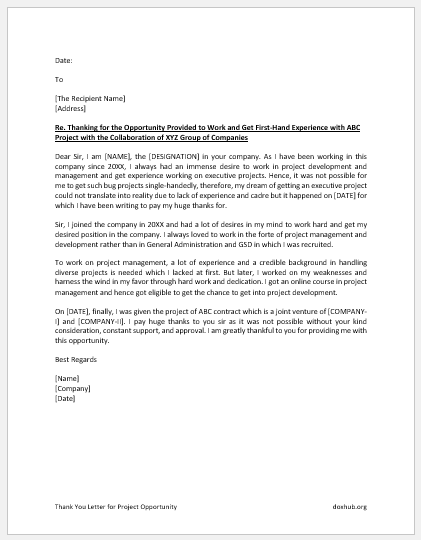 2-
Re. Paying Gratitude for the Project Opportunity Provided
Dear Madam,
This letter has been written to acknowledge your leadership and kindness that harnessed your company into the toll of benefits even among the declining economic position of businesses all over the globe due to Covid-19 and the restriction policies of the government that hindered a lot of business progress.
I want to pay huge regard and thanks to you for giving your approval to project no. [X] signed through contract no. [xxxx]. As this project keeps an eminent position in the world of the construction business and a lot of our competitors were looking forward to getting this project, I am overwhelmingly glad on winning this project. Your company is renowned for providing developmental opportunities, we were looking forward to getting this opportunity and working on one of the executive projects with your company.
I understand that both teams shall get various chances to learn something from each other's experiences. Your slogan of replenishing the discrimination in the corporate world and judging on a marital basis is the heart of equity and unbiased business matters. We are glad that you took the step forward and decided to help the small businesses in such a time of need and troublesome economic downfall.
I assure you that our team will not disappoint you and work tirelessly on this project to make it an achievement and distinguished success. We are all ready and girded up to kick off this project on the planned date and try to accomplish all the meticulous details before the actual deadline. We are proud of having a leader like you in the construction and textile sectors. Both sectors are following your footprints making the construction and textile a milestone in the USA.
I am thankful to you for considering us and giving us this project opportunity that had a lot of offers. All our enthusiasm and deep focus have been shifted to this project.
Please feel free to get more details on the project by calling us at [phone] or writing to our Project Executive Manager at [email]. In case of any problem, you can call me any time during office hours or meet me in person. Thank you.
Deepest Thanks,
[Name]
[COMPANY]
[Date]