Warning letters are documented in order to correct certain measures carried out by an employee that has possibly disrupted the company's code of conduct. Warning letters should not be considered as a way of threatening the employee, they are rather a way of intimating the employee of his non-corrective measures and telling him/her to discontinue the same so to avoid any discrepancies in the future. The employee should be addressed of his mistake in a manner that does not outrage him thus creating differences between him and the organization.
Warning letters are said to be considered as a means towards resolving an issue. While writing a warning letter it should be kept in mind that throughout the letter one should adopt a professional tone and usage of any word should not make the reader feel as if you are targeting him on personal grounds and nothing else.
Sample -1
Mr. Fred,
COO,
Interwood
Mr. Green,
Manager programmer,
Interwood
Dear Mr. Green,
I had chosen you very confident about our upcoming launch program. You had previously disappointed me but this time on your insistence I had given you another chance with my eyes open. Green our launch which was held last week proved to be a disaster. You were given the guest list along with the timings of the launch which you had failed terribly in communicating to the respective guests. The timing of the guests was messed up to such an extent that some of our guests were arriving just before the launch was about to finish.
Green, you understand how important this launch was for the company. You had always managed things in the best possible manner with true professionalism. This time certainly was unable to figure out where the mistake initially started.
The company does not want to lose you as you are a very good employee of ours, but Green such irresponsible behavior shall not be tolerated in the future. I hope to hear positive from you.
Yours Sincerely,
Mr. Fred,
COO,
Interwood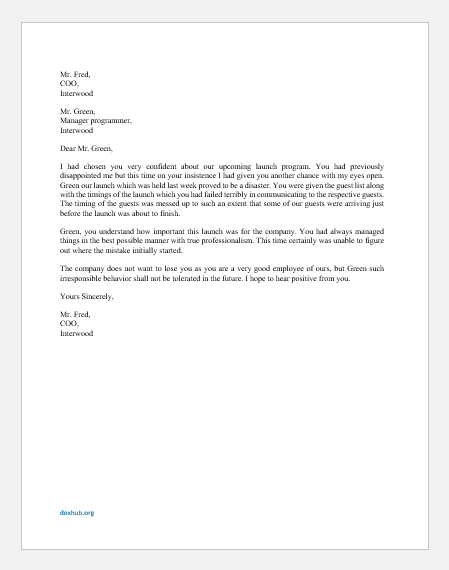 Sample -2
Mr. Tom,
CEO,
Textile
Mr. Terry,
Sales Officer,
Textile
Dear Mr. Terry,
In our previous meeting, I had made it very clear to you that you ought to provide me with the inventory details by contacting the inventory holder so that we may order what is needed further for production. Earlier you had failed to do so, and I had talked to you personally for not being careless and having a due record of what needs to be processed. Now of this time, you had repeated the same as before. We are running short of inventory due to which production is getting delayed. This is something that cannot be tolerated as it would make us incur huge losses.
Terry, you have always worked diligently and had put much of your efforts in what you do. But from the past few weeks, you are depicting an attitude of carelessness which is not acceptable at all.
I am hereby warning you through this letter to stop being careless and moving towards becoming responsible for things. I hope that I will see a positive change.
Yours Sincerely,
Mr. Tom,
CEO,
Textile.