Corporal punishment has been banned in the majority of the schools around the world due to its harsh nature. It has been observed that instead of rectifying a student's behavior, hitting a child leads to embarrassment and resentment. Moreover, no parent wants his/her child to be hurt at the hands of the teachers at school. This type of punishment is, therefore, disapproved of.
Despite its prohibition at schools, if a teacher still uses corporal punishment, he/she is held accountable for it by the school authorities. The parents of the victimized student also feel deeply aggrieved and make a complaint to the school's head. In response to this complaint, a formal apology letter is written to the parents by the teacher or the school's principal. On the other hand, the teacher may also be required to issue a formal apology to the principal or the school board by taking responsibility for his/her action.
Using corporal punishment on a student is a serious issue. Therefore, an apology letter should convey deep regrets for the action. It should make the parents feel satisfied that this will not happen to their child again.
In order to draft an effecttive apology letter for corporal punishment, the following points should be kept in mind.
1- Sincere Apology
The opening of the letter should express your deep regret for your action. You must make your apology sound, sincere and heartfelt in order to be granted forgiveness. The purpose of this letter is to resolve the issue by asking for pardon in the most humble way.
2- Taking Full Responsibility
You must acknowledge the seriousness of the situation. There is no way you can have a valid excuse for hurting a child who has been entrusted to you by his parents. Therefore, whether you are the principal of the school or the teacher who used this form of punishment, you must admit your mistake without trying to justify your behavior.
This is only going to make the parents of the victimized student feel more disgruntled. Therefore, as a teacher, do not try to convince them that you did the right thing. Instead, take full responsibility for what you did and express your regrets.
Similarly, as the school's principal, you must not try to rationalize your teacher's behavior. Apologize on his/her behalf and state that it has been a disgraceful situation for the school and you disapprove of it.
3- Assurance for Future Improvement
An apology should also be accompanied by the assurance to the parents that this will not happen again. In case you are writing as the school's head, chose words which will convince them that their child will never be mistreated at your school in the future.
On the other hand, if a teacher is apologizing to the principal of the school, he/she should express willingness to serve with more respect and consideration towards the rules and policies of the institute.
You must state that you will not practice corporal punishment against your students under any circumstances. This is a formal commitment that is necessary to be included in this apology letter.
4- Anticipating Forgiveness
In the end, do express your gratitude for giving you a chance to apologize instead of taking any strict action against you. Thank the parents in anticipation for their forgiveness.
Provided below are 3 different samples of the apology letter. The content of the letter varies according to who writes it – the teacher or the school's principal.
Letter -1
Dear XYZ,
As the principal of ABC School System, I am writing this letter to express my deep regret regarding the mistreatment of your child and our student, John Doe. I would like to convey my heartfelt apology to you on behalf of Mrs. Jane Doe who used corporal punishment on her grade 7 students, including your child. It is a shame that such an unfortunate incident happened at our prestigious institute. I feel extremely regretful about it and implore you to pardon the school.
At ABC School System, the administration does not tolerate the mistreatment of students in any way. Corporal punishment is absolutely out of the question. I have been training the teachers to adopt a friendly, kind and understanding attitude towards students at all times. In case a teacher needs to punish students for misbehavior, tardiness or incomplete assignments, he/she is only allowed to make them write lines.
What happened in Miss Jane's class last Thursday is unacceptable.
I have given her a warning letter for this intolerable behavior. Additionally, I have also held an urgent meeting with the entire staff of the school to highlight this issue and remind everyone that the school does not permit corporal punishment. Rest assured that this will not happen again. Your child will remain safe in future under my strict supervision and vigilance.
I am grateful to you for your patience and corporation. Thank you for your restored trust in ABC School System. You will not come across any issues in future. In case you do have any complaints regarding the institute, do not hesitate to contact me.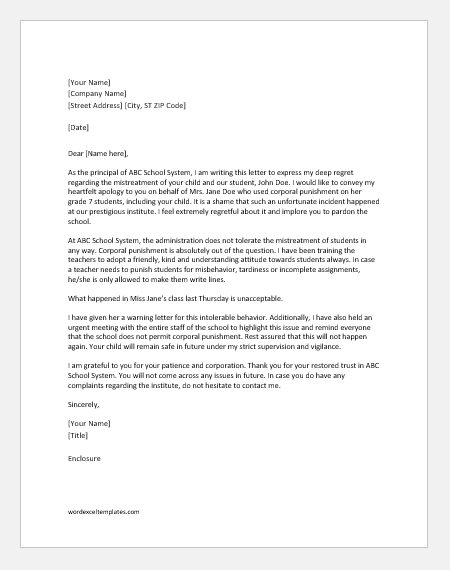 Letter -2
Respected (Principal's Name)
I am writing this letter as my formal apology to you for using corporal punishment on grade 7 student [NAME] last Thursday. I deeply regret the incident. Let me assure you that I will not practice this form of punishment on my students in future.
I am aware about the school's zero tolerance policy towards corporal punishment. I have always been careful about following this important rule. However, on this particular occasion, I lost my temper because of the misbehavior of those boys. I admit my mistake and take full responsibility for it. I beg your forgiveness for bringing disgrace to the school through this action. You have to deal with the disgruntled parents who have been expressing their great dismay to you. I apologize to you for putting you in this stressful situation when you already have a lot of challenges to deal with. I am also ready to write a formal apology letter to the parents if the school administration asks me to.
I am grateful to you for your leniency towards me by only issuing me a warning letter instead of my termination as per the rules of the school. Thank you for giving me one chance. I will try my best to serve the institute with enhanced dedication and complete integrity.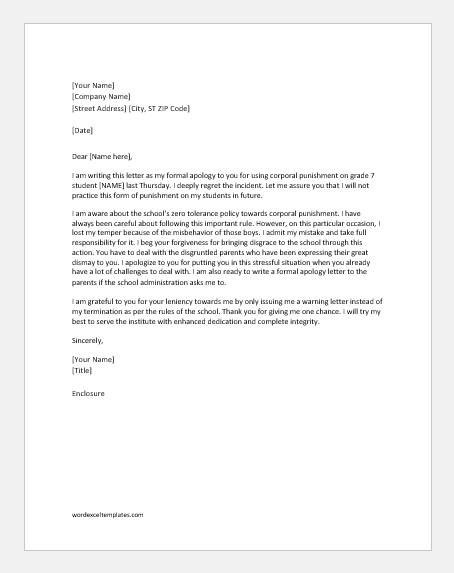 Letter -3
Dear (Name)
I am Jane Doe, grade 7 Science teacher at ABC School System. Please consider this letter as my formal apology to you for practicing corporal punishment on your son, (Name of student). I deeply regret my action and implore you for your forgiveness. I apologize for using this harsh form of punishment which caused distress to you.
I am always very considerate towards my students. This is the only time I resorted to this severe punishment. I assure you that this will never happen in my class in future.
I shall be grateful to you for granting forgiveness to me and clearing the issue with the school. I would like to thank you in anticipation.
Best Regards
(Name of teacher)