Letter -1
Re. Credit Inquiries on the Credit Card Application of Mr. Noah David w.r.t. ILD 433 and IBAN 23456765432
Dear Noah, this letter has been penned by the authorities of Financial Renovation Solutions Boston. The letter is written to communicate a few credit inquiries on application no. 432 that was submitted for the issuance of the credit card by ReX International Banking supervised by the Financial Renovation Solutions branch CA-IV. The credit inquiries are communicated to have a response letter or a letter of explanation (LOE) to discretize the credit inquiries put on by the Operational Branch of FRS.
It is stated that you had applied for the issuance of the credit card on 29-06-21. The application was forwarded to the operational branch of FRS where your credit report was compiled and scrutinized for further process. While scrutinizing your credit report, the operational manager of the company put on a few credit inquiries that are below:
You have been found enlisted in the defaulter clients who were unable to pay back their credit payments for three months in 2018.
Your credit scrutiny has found that the MLD scores on the credit report are low. You need 70 scores to be eligible for the credit card issuance application whereas you have only 59 scores of MLD.
Above mentioned points lie under hard credit inquiry, therefore, you are at risk of losing your credit scores from 5-6 points for two years. The credit inquiry shall end within one year and the period of low credit scoring can be shrunk into fourteen months after preapprovals of authorities. You are required to respond to this letter with a response letter/letter of explanation within 4-5 working days otherwise these credit inquiries shall be put to the curriculum of low scoring credit points for two years or less according to the Fair Credit Reporting Act.
For more, you can write to us without any hesitation at [EMAIL].
Regards
Olivia Celt
General Marketing Manager
Financial Renovation Solutions
9000-Delta Heights, 9th floor
Boston CA, USA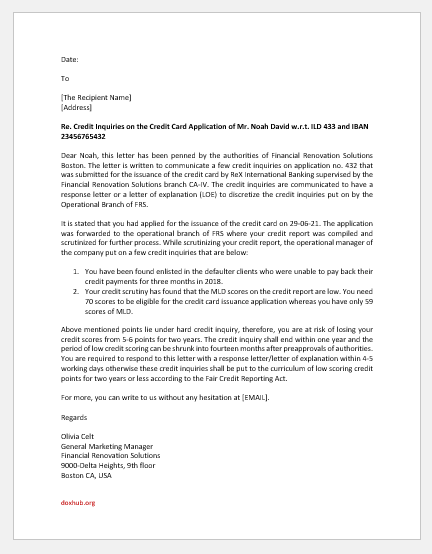 Letter -2
Re. Letter of Soft Credit Inquiries
Dear Jeniffer,
We have received your application for the car loan on 18-06-21 on the CLG program of CYC Financial company of Private Limited. MDG Investors and Financial Security Plans, on behalf of our company, have evaluated your application and credit report composed and compiled by the scrutiny committee formed by the partial coordination of both companies.
The committee has found a few objectionable points and thus reluctant in granting approval for the car loan applied. The credit report has pointed out different irregularities in your credit payments. Furthermore, it has been observed that your account beheld debit crash also resulted in your instant account closure in Lynx Western Bank Florida.
This two-statement inquiry has been received as disagreeable and negotiable. The polarity in the documents submitted with application no. 3423 and the credit reporting have slowed down the company's procedure on your loan approval. To speed up the procedure, you need to write a letter of explanation on these statements brought up by the credit inquiry report and revoke the points by providing authorized proofs.
After one week of no response, your application shall be canceled, and no process shall be undertaken. According to the Fair Credit Reporting Act, this credit inquiry does not impact your credit score in any way. You can get more information by contacting our team of operations at [WEBSITE] or call us at +1-[X] to make an appointment with our operations manager for a meeting on this concern.
Regards
David Janson
Manager, General Accounts and Scrutiny Wing
CYC Finance Company of PVT. LTD.
1540-F 7th floor SK Tower Boston
CA, USA