Re. Requesting the Necessity of a Gun Permit with Application no. 809 and Reference ID 78G09
Dear Sir, I am Christopher Ben, the Director of the Lesco Fits Group of Companies. I have always been keeping my personal weapon with me due to less personal security in the area. I need to keep the weapon with me while moving around due to unavoidable rivalries and business clashes.
In the world of business, a big corporate company faces huge challenges. One of those challenges is the challenge of safety and security. We have recruited guards and have made sure of all the security measures for the company and employees but it is difficult to maintain those safety measures when it comes to my personal safety. I am having some sort of insecurity and criminal chase for one month.
I have been suggested by my friends and family to keep a gun or any other firearm for my own security. I want to keep the gun for the sole sake of my personal security. I assure you that I will be careful in its usage and will provide every kind of guarantee if needed. I understand that I cannot use it for illegal terms, but I want to keep it for my personal satisfaction on safety measures.
I have enclosed copies of all the required documents and attachments. The details of the gun have also been enclosed for your convenience. The invoice of the LLE from the State of Mississippi has also been enclosed. Other personal documents such as a national identity card, residence details, business details, and the details of the weapon have been enclosed. You can have a copy of the license of the gun in the attachment.
I shall be grateful to you if you, after understanding my necessity to keep the weapon with me and reviewing my records, approve the issuance of the permit to keep the gun with me. I am an email away for any kind of query, investigation, or procedural movement at [email].
Regards
Christopher Ben,
The Director-General
Lesco Fits Group of Companies
32-C fifth floor, Eagle Heights, California, USA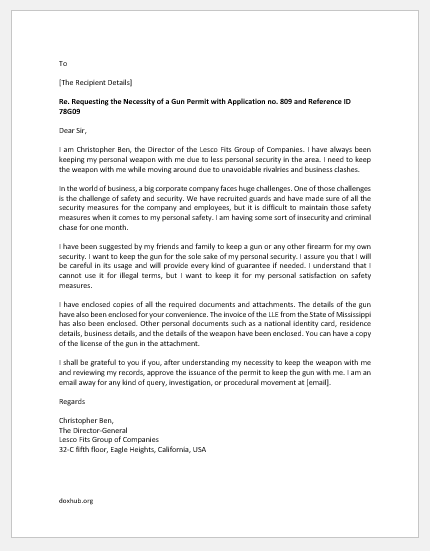 (Sample -2
Re. Request for the Permit of Gun in Possession for Safety Measures and Self-Security w.r.t. Application no. 0339c/2021
Dear Sir,
This letter has been written to you to request the issuance of a gun permit. The letter bears all the important required information along with proof of documents. The permit for which I am applying is for a 9 MM pistol of black color with a brownish blackbuck and black body (please find the picture of the pistol enclosed).
I am applying for a permit to use the pistol for my safety and keep it with me as a safety measure while commuting. I am facing troubles in the matter of my personal safety for which I had already filed a complaint with the Law Enforcement of Union County of New Jersey (please find a copy of the complaint enclosed).
I am a competent worker in a private firm (work details attached). I have enclosed the medical certificate indicating no use of drug or alcohol addiction. I have no criminal record and never committed a civil breach. I am a sensible and sane American citizen. For my safety, I need the permit to keep the pistol with e for satisfaction and self-defense in unavoidable circumstances.
I have enclosed copies of the required documents with this letter. For further, I am a call away at [X]. I shall be very much obliged if you approve the issuance of the permit. I thank you in anticipation.
Regards
John Swan
902, ninth floor, Peace Residential Matar,
Summit, New Jersey, USA