Sample -1
Re. Letter of explanation on Late Payments for the Installment of Car Loan for the Month of July 20XX
Dear Sir, I am Jennifer Hazel, a client of your bank since 2016. I have been an account holder in your bank since 2016 and I was declared one of the loyal customers of the bank in its 2020 nominations. My account no. is [X] and the title is Jennifer Hazel J.
I intend to explain your query through this letter as I have been asked to submit an LOE for the late payment of my car loan installment for the month of July 2021. I applied for a car loan in your bank in April 2019. Since April 2019, I have never missed any of the installments. I always paid my credit bills and installments strictly in time. I could not pay the installment for July 2021 because of some unavoidable circumstances in my family. There was a sudden death in my family for which I had to give away all my savings and money I spared for the payment of my car loan installment.
I tried my best to pay for the due amount but it became strenuously difficult for me to meet my monthly expenses. Therefore, I skipped one installment and applied for the installment editing and renewal of the CLI plan as it would not be easy for me to pay two installments simultaneously next month.
I vow that I shall try to not skip any installment in the future. I have decided to spare more amount from my expense to corroborate avoiding any such happening. I shall be grateful if you renew my CLI and remake my profile in this regard. I have attached copies of the important documentation required for this. Thank you.
Regards
Jennifer Hazel
91-D Hector C Sector 11 Ad.
Boston, CA, USA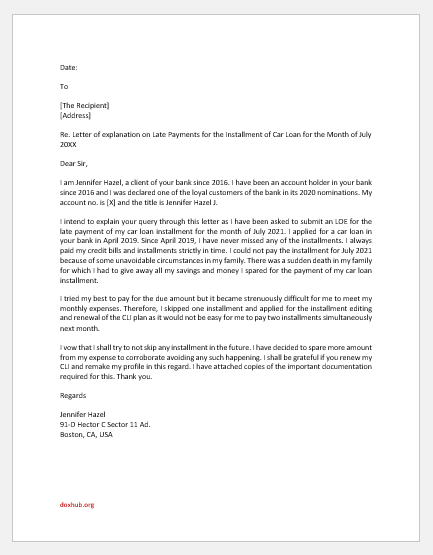 Sample -2
Re. Explanation of the Late Payments of my House Rent
Dear Sir/Madam,
With reference to the above-cited subject, this letter purports to answer the letter asking for an explanation of the late payment of my house rent for the month of June 2021. I received a letter from the Federal Chamber of Mortgage Affairs and Finance Management (FCMA & FM) in which I was asked to write an LOE for paying my house rent forty days later than the date fixed for rent payment.
Sir/Madam, I live in Manhattan, NY. I have been living in this house that has been rented to me by Mr. Harlem Ser since 2017. I have never skipped or belated a single month's rent payment to Mr. Harlem for four years.
As you already know that everyone has been struck harder by the hit of COVID-19 and imposed lockdown. Manhattan has been called one of the most badly stricken cities by the decimation of the virus. This havoc has been exponentiated by the shutdown of business and sudden layoffs.
Unfortunately, I have also been a victim of this disastrous wave and have been laid off. I have been working in SIGMA-108 Groups as an Assistant DM Technographer since 2017. I have also attached the proof of my work with this letter.
My sudden layoff entangled me in a lot of financial pressure and drained off all my savings. Therefore, I could not pay the rent for two months (May 20XX-June 20XX). I have requested Mr. Harlem to make an installment plan for the payment of these two months' rent payment.
I hope this explanation is ample for the kind consideration of my request. I vow that all the details given above are true and accurate. Please refer to the attached documents as evidence. Thank you.
I can be contacted at +1-[X] or [EMAIL].
Regards
Anderson Jacob
4320-H Hector Society, Manhattan 212,646
NY, USA