Sample -1
Re. Explanation of the Large Deposit in the CHM Bank USA on 21-06-21
Dear Sir/Madam, I am writing this letter as a response letter to the I-BLD asking to explain the motive behind the large deposit in the CHM Bank USA. I have been a client to the CHM Bank since 2005 and hence it has been a long time dealing with the management of CHM Bank. This letter intends to explain the reason behind the large deposit on which I-BLD sent a show-cause notice to me on 27-06-21. I have deposited the amount for the purchase of a car for my personal usage.
The amount that has been deposited is the amount taken as a loan from Steward Hall Citizenship Loan by the federal government. The loan was $10000, and the remaining amount was added from my personal savings recorded in the CHM Bank USA. The details of the car applied for is given below:
Model: C-0322
Company: XVC
Type: DVM
Registration Number: 43214203D4f02021
Transaction Made: 21-06-21
Car Documentation: 23-06-21
It is hereby stated that the details given above are true and accurate. I have attached the attested copies of the documents and evaluation appraisals by the CMH Bank USA. Please call me at +1-[X] or write to me at [EMAIL].
Regards
Joseph Kale
P-230 Edward Ave, KIC
San Diego CA, USA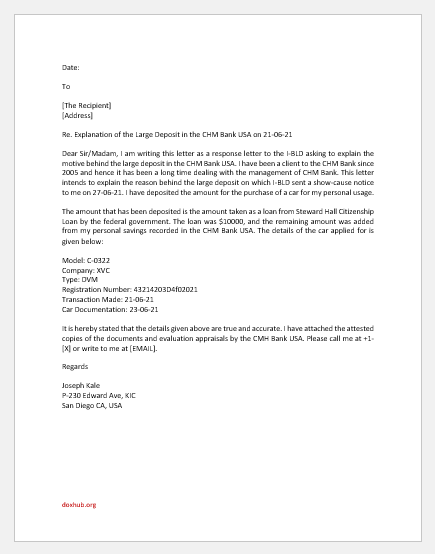 Sample -2
Re. Explanation of Large Deposit
Dear Sir/Madam,
Regarding the above-cited subject, I intend to explain the cause behind the large deposit that was carried on 23-06-21. I have been asked by the Institute of FEC and EC Control to explain the large deposit carried from my account i.e., account no. 65438765432-df to another account i.e., account no. [X]-PCC.
On 23-06-21 I paid for an apartment that I purchased from Mr. Noah Hekin to whom I made the payment for the house. I deposited an amount of $130M for the house with all the documentation and IRS records. The recipient account number that has been provided belongs to Mr. Noah in the Lynx AS Bank Pvt. Ltd. c-vii branch Boston.
I made the payment after completing all my documentation and required procedures. I have provided ample details on the RCM and land acquisition to the California Land Registration Center (LRC). The amount deposited has been acquired from the Agriculture Res Bank TCT.
The Local Authority Wing (LAW) has visited the area and approved the purchase. On the approval of LAW, I deposited the amount of $130M to Mr. Noah, the previous owner of the house. Thus, it will take 14 days to transfer the ownership while possession has already been transferred. all the other details have been entered and recorded in the LTP of Inland Revenue. All the scanned documents have been enclosed including my office details, identity card, office identity card, and other personal data.
For more, you can contact me at +1-[X] or email me at [EMAILS].
Regards
Jalin Ress
K-9023 Mountain K Square 59000
San Diego, CA, USA