Dealing with clients is quite challenging. You have to maintain a polite and professional attitude even if your client gives you a hard time. One of such situations occurs in case of overdue payments.
Before resorting to a drastic action against such clients, you should send a polite reminder about the payment. It helps you retain your business relationship with your client and is also beneficial for the overall image of your company.
In order to further establish a more professional reputation, you can offer to assist the client in making the payment procedure more convenient. For instance, you can suggest extending the payment deadline or allow the client to pay in installments. Similarly, you can come up with any suitable payment plan according to how flexible the company's policy is.
There are two benefits of offering your assistance in such a situation. Firstly, you are able to maintain a friendly business relationship with your client. Secondly, it also helps you retrieve the overdue payment which might keep getting delayed unless you offer a convenient payment plan.
Writing a letter for this purpose can be tricky. You have to be firm yet polite. Here are some tips that can help you compose your letter.
Give a Reminder about the Payment
Start the letter by politely reminding your client about the overdue payment. If you have contacted the client before regarding the same matter, do mention that. If this is not your first reminder, you may adopt a firmer tone. In addition, provide all necessary details, such as the total amount to be paid and the billing month.
Although you must address the client politely, the purpose of the letter should be stated firmly. Express your seriousness regarding the matter. The reader should understand that this letter cannot be ignored or taken lightly. Therefore, you must clearly demand for the due payment to be made without any more delay.
Express your Understanding of the Client's Issues
Whether you have sent one reminder or more, show your concern about the client's issues. State that you understand if the client is going through a financial difficulty keeping him from clearing his dues with you. In certain cases, you may receive a letter from the client informing you about some difficulty causing the delay in payment. In response, you should express your sympathies and offer your support and cooperation to make the payment procedure easier.
Discuss what Assistance you can Offer
State that an alternate payment plan can be arranged specially for the client so that he can clear the bill. It is important to discuss exactly how much flexibility you can exhibit. Do state that the plan has to be suitable for both of you. In this way, no client will be able to take an unnecessary advantage. Although you are offering your assistance, you must make it clear that you cannot help beyond a certain point. State your limitations so that the client understands that the payment cannot be further delayed.
Maintain a professional tone
While writing this letter, keep your tone professional. Do not use any words or expressions that may seem offensive to the client. Even though the client has been giving you trouble by not clearing the dues, still you should state how much you value your business relationship with him. 
End the letter positively. For instance, you may state that you look forward to doing more business with the client in future. Wrapping up with a friendly note will help you maintain good ties with the client in future.
Provided below are two sample letters. The first letter begins with a reminder and goes on to offer assistance in clearing the dues. On the other hand, the second letter responds to the client's request for a convenient payment plan.
Sample Letter -1
This is an official payment reminder sent to you on behalf of XYZ Health Club. Your monthly payment for January is still due. Since the last date for the submission of the monthly fees has passed, you have to pay the bill along with a fine of 15% according to the club's rules. Therefore, your total outstanding amount now equals $245.60.
We hope to receive the payment within the next couple of days. Any further delay may result in the cancellation of your membership. However, in case you are facing a difficulty making the due payment, we are willing to offer our assistance to you. The club values all of its clients and believes in making them feel comfortable in every way. Therefore, a more suitable payment plan can be arranged by us in order to make it more convenient for you to clear the bill.
We hope to receive your response soon. You may contact us through email or connect with our customer care service at 1112345678.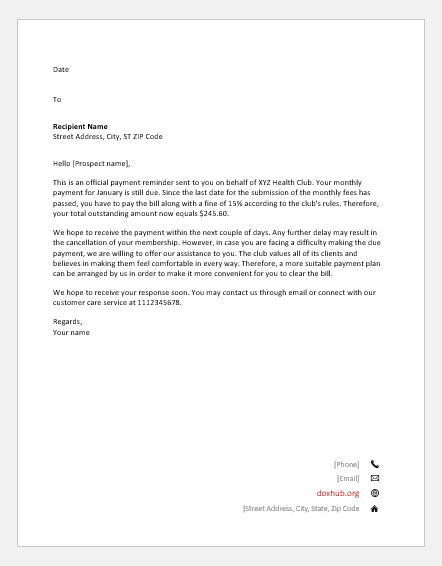 Sample Letter -2
This is in response to your request for arranging an alternate payment plan to help you clear your overdue bill. We appreciate you for confiding in us about your financial issues. Since you are one of our valuable clients, we sympathize with your situation and wish to assist you as much as the company's policies allow us to.
Your request has been forwarded to the higher management and is currently being reviewed. The management will come up with a flexible payment plan suitable for you. We will notify you as soon as the authorities find an appropriate solution for your case. However, you are obliged to make the full payment in all cases. There will be no reduction in the total bill as per our policies and rules. Therefore, you must clear your total bill which equals $500.
Thank you for doing business with us. Kindly contact us in case of any queries.